Medicare.gov - Tutorial - Compare Medicare Plans in Your List

If you wish to compare one Medicare Part D plan (or Medicare Advantage plan) to another, the Medicare.gov Plan Finder website allows you to select two or three Medicare plans to analyze or compare in more detail. "Check" three of the boxes next to the desired Medicare plans and then click on "Compare Plans" and the Medicare.gov site will set your three chosen Medicare plans side—by—side for further review. One change from the older versions of the Medicare Plan Finder is that the medications are not in a separate column, but included under every one of the three plans so the horizontal spacing can sometimes be a bit off, so be sure you are comparing the same prescription drugs across all of your chosen plans.
What is your estimated annual drug costs even if you are in Good Health and did not enter any prescriptions back in Step 2 of 4?
You have two options back in Step 2 of 4 to get this far in the Medicare.gov Plan Finder without actually entering any prescription drugs. You could have chosen either: "I don't want to add drugs now" or "I don't take any drugs".

Both options in Plan Finder Step 2 of 4 skip the drug entry page and bring you directly to this Step 4 of 4.

However, the two similar options lead to different results with the "I don't want to add drugs now" option adding in an estimated value of your medication costs even though no drugs were added.

Back in 2012, if you chose not to enter any prescription drugs in Step 2 of 4 ("I don't want to add drugs now") , the Plan Finder still estimated that your prescription drug cost for "Good" health would be $3,318 per year (the Plan Finder default health value is always "Good" ). In July of 2013, that estimated annual drug cost has increased to $3,636 for a person with "Good" health. When we changed our Health Status on the previous screen (left hand side, bottom of the options) to "Poor", our new estimated annual retail drug cost without any prescription drug coverage increased to $7,296. If we change the Health Status to "Excellent", our annual retail drug cost estimate would change to $1,656.

Since there is no better Health Status choice than "Excellent", people who take no prescriptions can either just ignore the annual Medicare drug cost estimate at this point or go back to Step 2 of 4 and click on "I don't take any drugs" to get a better idea of having a Medicare Part D plan and not using any prescriptions.

If you chose "I don't take any drugs" back in Step 2 of 4 "Enter Your Drugs", you will see the only annual cost for a Medicare Part D plan is simply the cost of the monthly premiums and no estimated drug cost is added. Therefore, if you just want the lowest prescription drug priced plan so you can avoid any late—enrollment premium penalty or just to have some form of drug insurance, you can quickly see the lowest annual costing plan available in your area by choosing "I don't take any drugs" back in Plan Finder Step 2 of 4. If your health status changes, you can always go back to Step 2 of 4 and enter medications.

In the previous step, we chose only to view stand—alone Medicare Part D prescription drug plans or PDPs. However, you are able to view all available types of Medicare Part D and Medicare Advantage plans at one time. In other words, the Plan Finder allows you to compare Medicare Advantage plans that offer prescription coverage to Medicare Advantage plan without prescription coverage to Original Medicare coverage with stand-alone Medicare prescription drug plans. And yes, sometimes this comprehensive analysis is not only overwhelming, but comparing all of these types of Medicare plans at once is like comparing apples to oranges or, better still, because of all the additional coverage features in a Medicare Advantage plan, like comparing the purchase of a new set of automobile tires (the PDPs) with the purchase of a new car that has new tires (the MA—PDs).
Our advice to you:
Look at one type of Medicare plan at one time. If you only want prescription drug coverage, begin with Medicare Part D prescription drug plans. If you want more comprehensive Medicare health coverage (maybe along with prescription drug coverage), then compare Medicare Advantage plans with or without prescription drug coverage.
Confused by all of the different numbers? That is understandable.
There are a number of different costs associated with a Medicare Part D plan or a Medicare Advantage plan and they sometimes blur together when all presented at one time. Here are a few of the costs that we will see on this Your Plan Results page and when you go into more plan details.
Negotiated Retail Drug Costs — What you would pay at a given pharmacy for your medications if you did not have prescription drug coverage. Your total annual retail drug cost is used to determine when you leave your Medicare plan's Initial Coverage Phase and enter into the Coverage Gap or Donut (Doughnut) Hole phase./li>
Drug Cost Sharing — The price you pay for a medication covered by your Medicare prescription drug plan. Cost sharing can vary greatly between Medicare plans (on one plan you may pay $0 and on another plan you will pay $60 for the same medications). Cost Sharing can even be different when the same Medicare plan is used at different pharmacies (for example, a preferred network pharmacy as compared to a network pharmacy).
Initial Deductible — The amount you pay before your Medicare Part D plan begins to pay or before you reach your Medicare plan's Initial Coverage phase. The Initial Deductible counts toward your total drug spend or out of pocket threshold. You will notice that some Medicare Part D plans still provide some drug coverage in the Initial Coverage, so for some medications you may see cost sharing values even when you are still in the Initial Deductible phase.
Monthly Plan Premiums — This is what you pay just to have your drug coverage. Medicare Part D premiums are like the monthly premiums for any other type of insurance and just ensure that you have coverage available in case you need it. The Medicare Part D monthly premiums do not count toward your Deductible, your Donut Hole, or your total out of pocket drug spending.
You will notice other costs as well when reviewing Medicare prescription drug plans or Medicare Advantage plans, such as mail-order pharmacy costs (if available) that may be less than preferred network pharmacy costs —and the cost of health care coverage that is usually provided by Original Medicare Part A (in-patient care) and Medicare Part B (out-patient care).

The key at this point is to ensure that the Medicare prescription drug plans (or Medicare Advantage plans are sorted in order of estimated annual prescription costs (this assumes all cost including your monthly premium and initial deductible--if any). (Please notice that the Medicare plan sort order is controlled by a drop down box in the middle of the Plan Finder Your Plan Results page.) You can then look down the list to find a Medicare plan that most affordably covers your prescription medications or health coverage.

Keep in mind that the Medicare prescription cost data is often updated. For example, you may not get exactly the same results with different examples when you come back to visit the Plan Finder on a later date. We have also found in previous years that the prescription retail cost data can also change every few weeks or more often during the annual Open Enrollment Period. At one time, we found the drug ETODOLAC TAB 500MG was shown as having a retail cost of $22.58, $24.70 and for the third plan $77.34! When we went to the specific Medicare plan's website and checked the drug in their own prescription drug plan calculator, it showed a price of $27.35. The difference in drug prices can change the accuracy of your Medicare plan comparison. So, if you see a retail drug cost that seems drastically inconsistent with the other Medicare plans, you may wish to save your drug list and try your comparison again in a few days to compare the accuracy or telephone the Medicare plan directly to confirm the drug price.

A Medicare prescription drug plan can change the plan's specific medication coverage throughout the year.

Just as medication retail drug pricing can change on the Medicare Plan Finder, Medicare Part D plans can add or remove medications throughout the plan year (starting in on March 1st). So it is possible that if you research plans and then return months later, you may find that the most affordable Medicare prescription drug plans have changed order. If you are already enrolled in a Medicare Part D plan, the plan must provide you with written notice about any drug list changes. But the notification is sent several months (60 days) before your coverage is actually affected and so the Medicare Plan Finder may not show that same advance notice until the plan's drug list or formulary actually changes. This means, you may know that Medication XYZ is being dropped by your Medicare plan, but the Medicare Plan Finder may still show your plan covering XYZ until the medication is actually removed from the plan's drug list.
What are the "Plan Ratings"?
One of interesting feature that the Medicare.gov site provides is a Plan Rating star system based on a number of Medicare plan quality factors. The ratings come from several sources including a sampling of experiences from people who have been enrolled in the particular Medicare plan and, like any sample of events, these Medicare findings may or may not correspond with your own experiences. We have found that often times a Medicare Plan that had a lower Medicare star rating one year will really work to raise the customer rating in the next years. When a new annual Open Enrollment Period begins, Medicare may not have yet gathered all of the necessary data and you may at some time find a screen message saying that the Medicare star or quality ratings data was not yet loaded by Medicare. No problem, the star ratings will return and you need to just check back to the Plan Finder at a later date.

"Cost Summary"
As noted earlier, we consider the total annual drug cost to be one of the most important factors that folks should consider when choosing a Medicare Part D plan or Medicare Advantage plan. This figure is the total amount that you can be expected to pay for the whole year for your prescription drugs. The Estimated Annual Drug Costs include monthly premiums, initial deductible, and your portion of your actual prescription drug costs.
However,
the annual cost alone is not all that is important when choosing a Medicare plan. Take a look at the plan's Quality Star Rating. How have previous plan Members rated this plan? Take a look a the size of the Medicare plan's formulary or drug list. All of your current medications may be covered, but paying a few dollars more per month for a plan with larger formulary may pay off if you are prescribed new medications after the start of the new plan year. If you are joining a Medicare Advantage plan, be sure that your local hospital, physicians and specialists are included in the plan's network.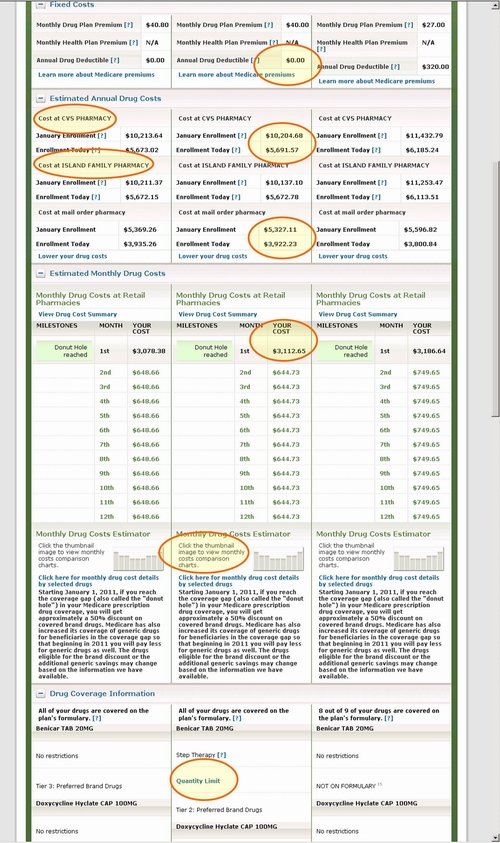 Notice the different coverage costs from the different pharmacy we chose in the previous step.
You may notice in our Plan Finder screen example that we chose two different pharmacies from the previous Step 3 of 4 and these two pharmacies have different Estimated Annual Costs for each of the three chosen plans we are comparing.
When Initial Deductible Levels are Met
In the example screen, we see that one of the chosen plans has an Initial Deductible and the other two plans do not have a deductible. If you look closer to plan cost details, you may notice that sometimes the Initial Deductible (again, this is the part of your Medicare plan where you pay for everything yourself) does not always align neatly into the Plan Finder and there are two possible reasons for the Total Cost figure to be over the initial deductible value:

(1) there are some medications that are on the Drug List that are not included in the Medicare Part D plan formularies — and since they are not in the formulary the cost is not included toward the Initial Deductible or the Initial Coverage Limit (before entering the Doughnut hole).

(2) Straddle Claims that break purchases over several phases of a Medicare Part D plan. The Medicare.gov website shows costs for a total month and is not programmed to break coverage periods within a month. In our Q1Medicare.com Doughnut Hole Calculator, e break the initial deductible into smaller portions and allow a person to go through multiple phases of coverage in a single month. For example, a Medicare beneficiary could meet their initial deductible with the purchase of one expensive medication — well before the end of the first month and with a very expensive drug like in our example screens (retail costs of around $10,000), the person would go through all phases of the Medicare Part D plan and into Catastrophic Coverage with one purchase.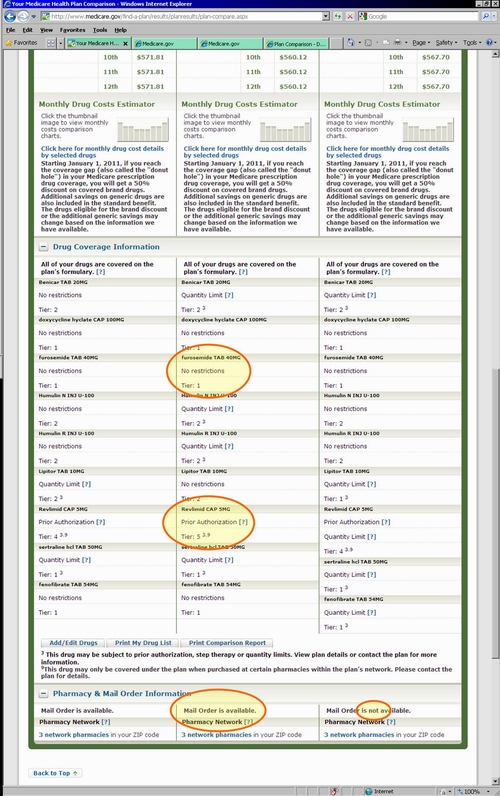 Nearing the bottom of the page is the "Drug Coverage Information" which shows the medications from the Drug List that are covered under the Medicare Part D plan formularies. Notice also that some medications are subject to usage management such as prior authorization, step therapy or quantity limits.