Medicare.gov Tutorial - Return to Your Saved Drug List (Optional)

In the past (pre-2010), you had to actively save your drug list with the "Save Your Drug List" screen. Now in the current Medicare.gov Plan Finder, your drug list is automatically assigned a random numbered ID and a date so that you can return to the Plan Finder and not need to re-enter your medication information. You can choose to save your drug list with a specific date. You need only select a month, day, and year from the drop-down boxes. This can be any date. The Medicare site assigns a long random number as your ID - that you do need to either remember or write down. With the date and the ID (random number), you can access your Medicare Part D plan drug list any time, make changes and reevaluate plans. Your drug list may even be available next year. Again, please be sure to write the ID and date down somewhere so that you have it for future use.
Again, as an example, you can enter the ID 1197349504 and date of October 20, 2010 to see the medications we saved for this example. We used the 32080 ZIP Code and if you have entered something different on the earlier screens, you will be asked whether you wish to change the stored ZIP Code. Our example is not really meant to be too serious so you are allowed to change the example as you wish.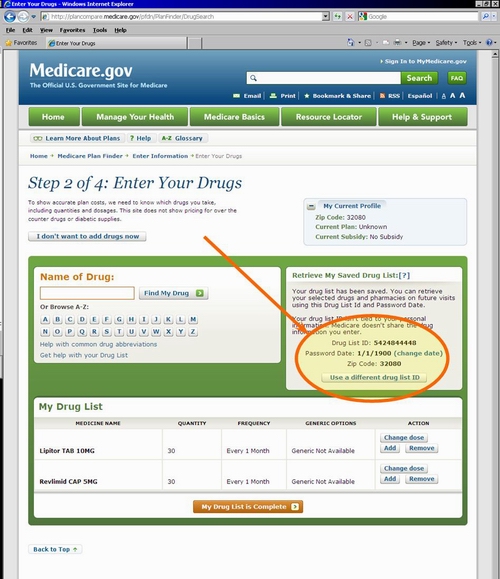 Why would I want to return to my drug list after finding an affordable plan?
You might want to return to your saved drug list to re—check your Medicare plan options. For instance, each year you have a chance to change your Medicare Part D or Medicare Advantage plan coverage during the annual Open Enrollment Period that begins on October 15th and continues through December 7th. And perhaps you are the type of person who likes to make an early decision and enter your medications into the Plan Finder on October 15th, find the most affordable Medicare prescription drug coverage for the next year, and even enroll into your newly chosen Medicare plan at the same time.
Then several weeks pass by and on December 1st, you visit your doctor and are unexpectedly prescribed a new medication that might not be covered by your newly chosen prescription drug plan.
No problem. Since you are still in the annual Open Enrollment Period, you have through December 7th to choose the most affordable Medicare prescription drug coverage for next year. You can just go back into your previously saved Drug List, add the newly prescribed medication and see if the most affordable plan is still the same as you found back on October 15th.
If another Medicare plan provides more affordable coverage, you have the ability to change your plan enrollment through December 7th.
Q1Medicare Team Note: If this situation actually occurs to you, please call Medicare at 1-800-633-4227 before the end of December 7th and get a Medicare representative to help you with your last—minute enrollment or plan change.