Pre-2010 Medicare.gov - Find and Enter Your Drug Information
***Archive: Below is the Pre-2010 Medicare.gov Tutorial***
The next Medicare.gov screen allows the user to enter their prescription medications — one at a time — and add them to their Drug List.

Medicare.gov provides two ways for you to search for your medications, you can choose to browse through an alphabetical list or search by drug name. We suggest using the "Search for Drug" function because it allows for partial searches and even "fuzzy" searches where you may have misspelled the name of a medication.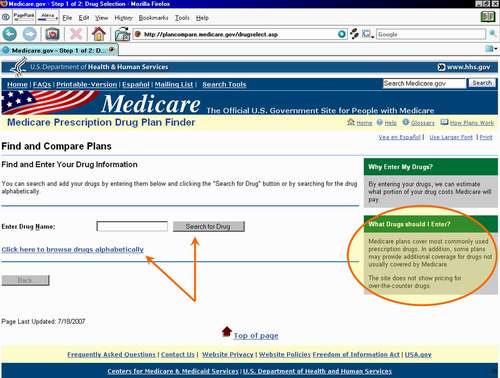 You may recall that, in general, Medicare Part D plans exclude certain medications. So if you are finding that one of your medications is never found in the medication database, it might not be covered by the Medicare Part D program. Alternatively, if you have been prescribed a very new medication that has just been released, it is possible that the medication database has not yet been updated and you should save your partial medication list and come back at another time and check again.

The graphic below shows how to begin using this part of the Medicare.gov Medicare Prescription Drug Plan Finder. This screen also shows how a partial search functions — here we have only put in "lip" for Lipitor® and Medicare.gov returns a list of choices based on this partial word with Lipitor® as our first choice. We then choose to "Add Selected to Your Drug List".

Note the check box under your drug list: "Use lower cost generic drugs when available." If you check this box (the default is "checked"). Your name brand medications will be replaced with their generic equivalents. If you should need to change the medication back to the name brand, you will have to search for the name brand again, add it to your list, delete the generic you're your list and be sure to uncheck the use generics box. Note for advanced users: add all of the drugs that can be converted to generic leaving the box checked, click "Continue" to go to the next screen. On the next screen click "Add More Drugs". It will bring you back to the drug search. Add all of the medication that cannot be converted to generic. Uncheck the use generics box. Click "Continue" to move forward with your plan comparison.

DO NOT click on "Save My Drug List" on this screen. If you do, you will skip over the screen where you enter your medication dosages and strengths. The system will use default values in finding the best plan.

Rather, click on "Continue" to go to the next screen where we can enter the Quantity (number of times the drug is taken per day/month) and medication strength (mg or ml).