Pre-2010 Medicare.gov - Enter the Requested Information

***Archive: Below is the Pre-2010 Medicare.gov Tutorial***
Medicare would like some information about you to help with the Part D prescription drug plan process. The zip code that you enter and the questions regarding "extra help" will directly affect your plan search — see below. The other information is for Medicare's benefit. Try to answer the questions accurately as it may provide CMS with some feedback on how they can improve their site and to also help guide you to the best Part D plan. When in doubt, choose "I don't know."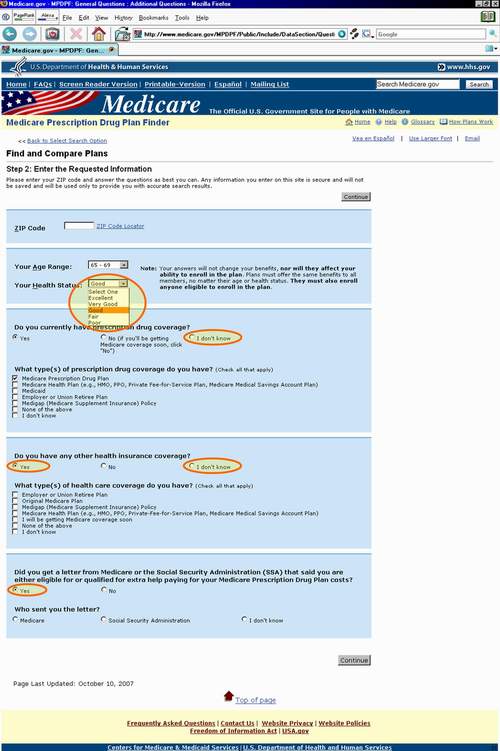 We are still not sure how to best answer the "Your Health Status" question — the difference between "Excellent" and "Very Good" may depend on quite a few things, including your present mood. We have worked with many optimistic people who, as long as they could draw a breath, never considered their health anything below "fair". Anyway, you may not want to spend too much time thinking about this question.

The questions "Do you have prescription drug coverage?" and "Do you have any other health insurance coverage?" are important because you may not need (or want) Part D coverage if you are receiving prescription drug coverage from another source. If you have "creditable" prescription coverage through your employer's health plan, signing up for a Part D plan may mean that you lose all of your other health insurance coverage. When in doubt — contact your health plan administrator before enrolling in a Part D plan.
These two questions are simple "yes/ no" questions when you first enter the screen. If you select "yes", the window will expand and you will be asked for more specific information. Depending on your answers, you will be shown some disclaimers regarding possible loss of coverage (as mentioned above).

If you are receiving any "extra help", answer "yes" in the last section and complete the additional question. If you are eligible for the full low income subsidy, you will notice that some Medicare Part D plans have a premium of $0. These are the Part D plans in your state whose monthly premium is fully covered. If you wish to choose another Part D plan, you will be responsible for the monthly premium cost above what your state provides. (
We have list of State Monthly Premium Allowances here
).
Question:
What do I do about my premium penalty?
Answer:
If you did not enroll into a Medicare Part D plan during your initial eligibility and you did not have any other "creditable" prescription drug coverage, you may pay a higher monthly premium based on the number of months you were without prescription drug coverage. This penalty will be calculated by CMS and reported to your selected Part D plan and they will, in turn, contact you about the additional costs. In 2008, you will pay $0.28 or 1% more of $27.93 for each month you were without creditable prescription coverage. This value will change every year based on the average monthly Part D premium.
(See:
What you pay for a Medicare Prescription Drug Plan in 2008 - Part D

If your ZIP Code falls over more than one county, then please select the county where you have your permanent residence. This really does not affect Medicare Part D plan selection, but if you decide later to look at a Medicare Advantage plan with a prescription benefit (MA-PD), the MA-PD plans are available on a county-by-county basis.