The Centers for Medicare and Medicaid Services (CMS) periodically releases the enrollment figures for Medicare Part D and Medicare Advantage plans and we included this information in our Medicare Part D Plan Finder (
PDP-Finder.com
) and Medicare Advantage Plan Finder (
MA-Finder.com
) tools.
Please note:
Due to healthcare privacy (HIPAA) concerns, CMS will not release enrollment figures for any Medicare plan with an enrollment under ten (10) members - and we will mark the value as "
<10
". If no enrollment information is available, we will mark our Plan Finder tools with a "
tbd
" (to be determined - as we are assuming that the data will be released) or "
NA
" (Not Available - we are assuming that CMS will not be releasing this information).
To view stand-alone Medicare Part D plan (PDP) Enrollment Information
When you begin using our
Medicare Part D Plan Finder
, you can see that we use the right column of the plan results for additional Medicare plan information (such as, formulary size, star rating, or number of members).
As a default, we show the size of a Medicare prescription drug plan's formulary or drug list in the
right column
.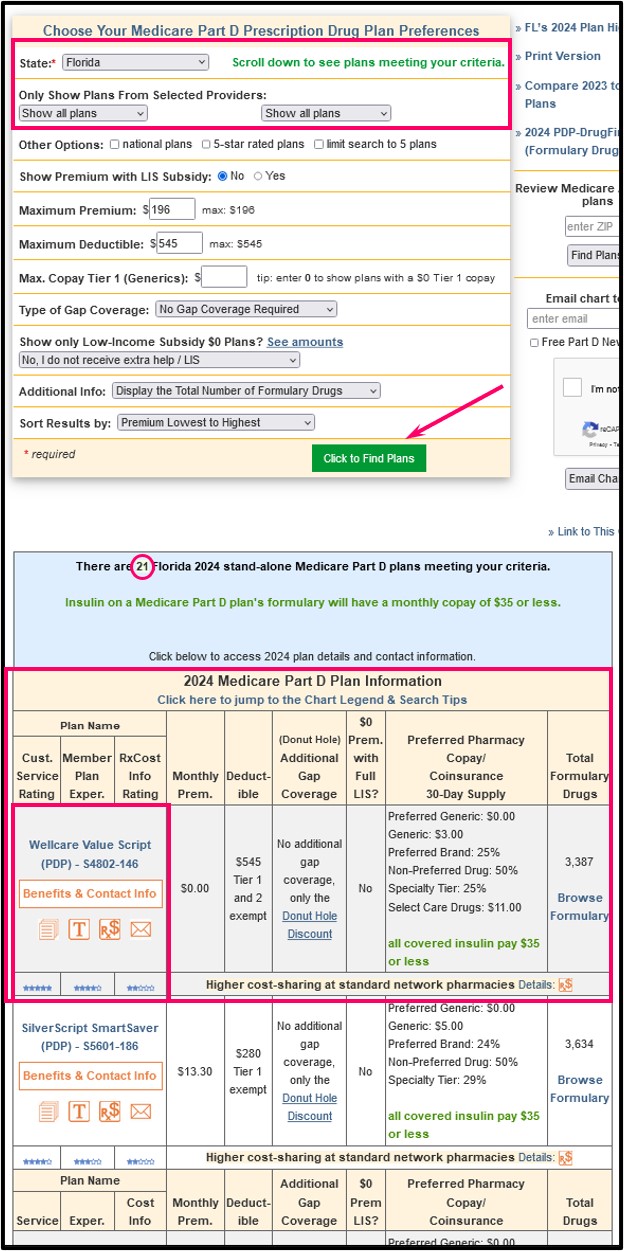 Using the Additional Information ("
Additional Info
") drop-down list in our search field, you can change what you see in the right column ("
Display the Total Number of Plan Members in this State
") - and then press "Click to Find Plans".
You now can see the enrollment in the Medicare Part D plan's state or region shown in the right column.
Please note:
Medicare Part D plans are grouped into
39 CMS Regions
, so you may have a Medicare Part D plan available in more than one state. In the following example, we are seeing the state of Florida, which is the only state in CMS Region 11. So, the state and regional plan enrollment is the same for Florida.
However, if we look at the results of our
Medicare Part D Plan Finder for Montana
, we would see that Montana is in
Region 25
which includes the following states:
Iowa
,
Minnesota
,
Montana
,
Nebraska
,
North Dakota
,
South Dakota
, and
Wyoming
. So, any Medicare Part D plan offered in Montana is also available in these other six Region 25 states.
The enrollment figures shown in our Plan Finder are for the entire CMS Region 25 where this Medicare Part D plan is offered and include enrollment for the state of Montana. For more details, you click on the name of any Medicare Part D plan and see the
national
plan enrollment, the
regional
plan enrollment, and the
state
(Montana) plan enrollment.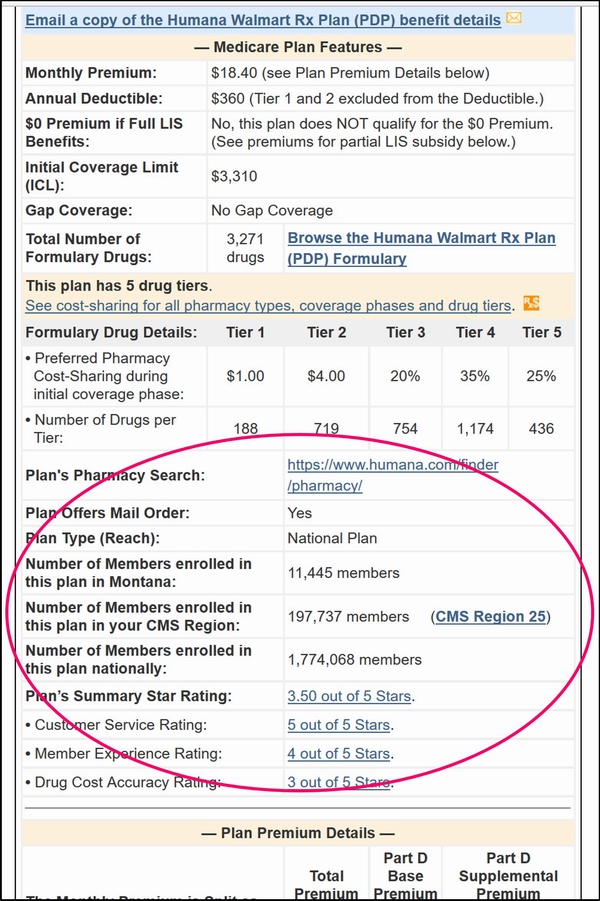 To view Medicare Advantage plan (MA and MAPD) Enrollment Information
Our
Medicare Advantage Plan Finder
shows enrollment figures in a similar way.
The results for a Medicare Advantage plan search show all the Medicare Advantage plans (MA, MAPD, and SNPs) available in a specific ZIP code area (or partial ZIP code) and the right column shows "
MOOP for Part A & B Benefits
" by default.
However, you can change the "Additional Info" drop-down menu to "
Display the Number of Plan Members in this Plan ID
" (be sure to click on "Click to Find Plans" after changing the Additional Info field).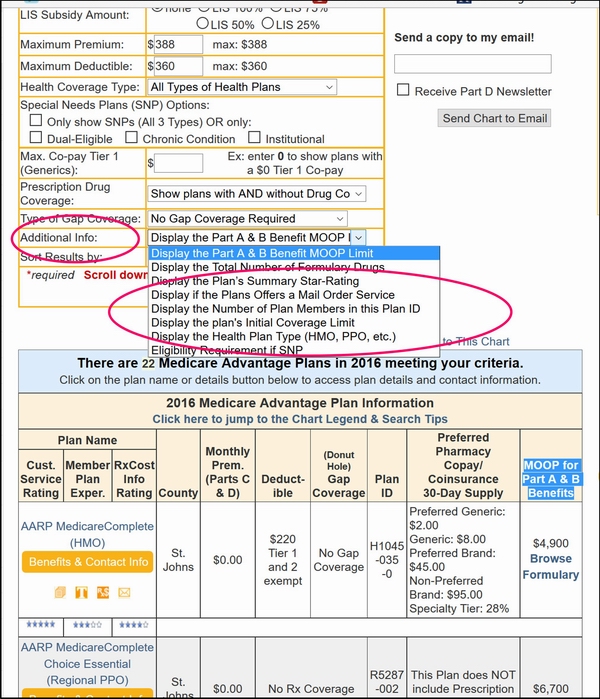 The Medicare Advantage plan results show enrollment in the right column. Please notice the "
tbd
" (to be determined - because the enrollment information is not yet available) and an enrollment of "
<10
" showing small enrollment in a particular plan that is not reported to protect Member privacy and a very large enrollment number (47,172 Members) for a particular Medicare Advantage Plan ID (and includes enrollment for much more than just this one county).
Please note:
Some Medicare Advantage plans (Contract ID and Plan ID) cover an area much larger than a particular county or ZIP code and so you need to go into the plan details (click on the plan name or the icon under the name) to see the enrollment in this particular county. In this example, Saint Johns County, Florida has 926 Members instead of the total of 47,172 Members reported under this entire Plan ID and Contract ID.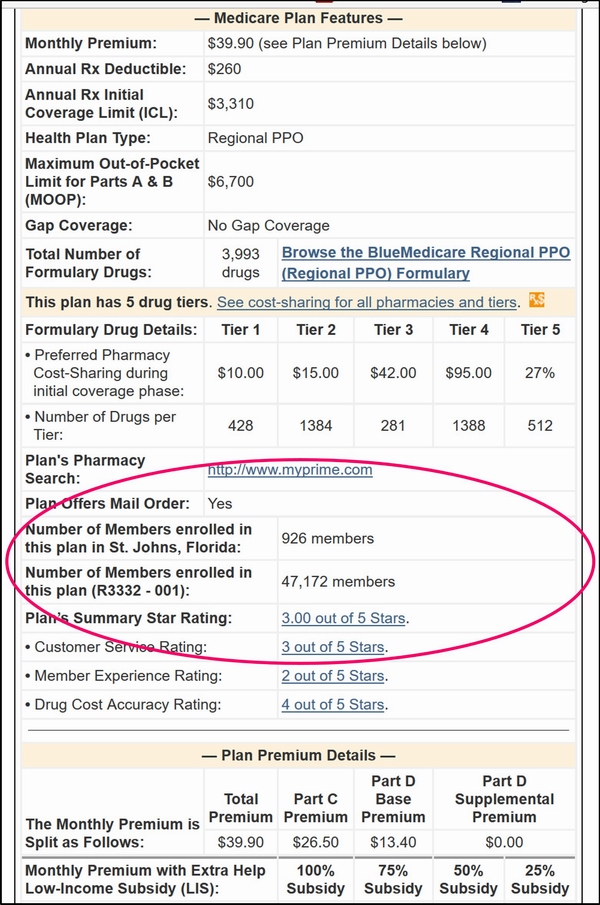 Questions? Please let us know:
https://Q1Medicare.com/Helpdesk.php