Utilization management restrictions (or "usage management" or "drug restrictions") are controls that your Medicare Part D (PDP) or Medicare Advantage plan (MAPD) can place on your prescription drugs and may include:
Quantity Limits - limiting the amount of a particular medication that you can receive in a given time. For example, only allowing Medicare plan members 30 tablets per 30 days and/or

Prior Authorization - requiring plan members to get plan approval before filling a prescription and/or

Step Therapy - requiring that plan members try lower-costing medications (such as generics) before using a more expensive drug (usually a brand-name drug).
Utilization management restrictions can be applied to any formulary drug provided by your Medicare drug plan and this list can change year-to-year (meaning, you may find that if you stay with the same drug plan into the next year that some of your formulary drugs now have utilization management restrictions.
Why Usage Management Restrictions?
Every Medicare prescription drug plan (PDP or MAPD) follows a different philosophy when it comes to drug usage management. Some companies try to keep the drug plan costs down by asking people to use lower-costing medications before moving to higher-costing alternatives (Step-Therapy or Prior Authorization). Medicare drug plans also want to protect their plan members from drug overuse or misuse and so require prior authorization or limit the quantity of the drug to ensure that the medication (and the quantity of medication) is necessary and used excessively.
A new plan year - and new Usage Management Restrictions
On January 1st, at the start of the plan year, if your usual prescription drug is covered differently due to a newly imposed usage or utilization management restriction, you can ask your Medicare prescription drug plan for a
transition fill
-- a one-time 30-day temporary supply -- while you and
your prescribing physician
work to satisfy the usage management requirement or find another formulary drug.
You can click here to read more about
transition fills
.
Please remember, you always have the right to ask your plan for a formulary exception if you wish to be exempted from a specific usage management requirement.
Click here to learn how to request a formulary exception
.
If you request an exception from a Quantity Limit, Prior Authorization, or Step Therapy and the request is denied, you have the right to file an appeal from the decision - and in fact, you are able to
appeal a negative decision
through several levels (up to the review by an independent board).
Reminder:
Both our
Formulary Browser
(showing all drugs for a single Medicare plan) and our
Drug Finder
(Q1Rx.com - showing all Medicare plans covering a single drug) display the details of the drug utilization management requirements along with the drug cost-sharing information for all Medicare Part D plans and Medicare Advantage plans.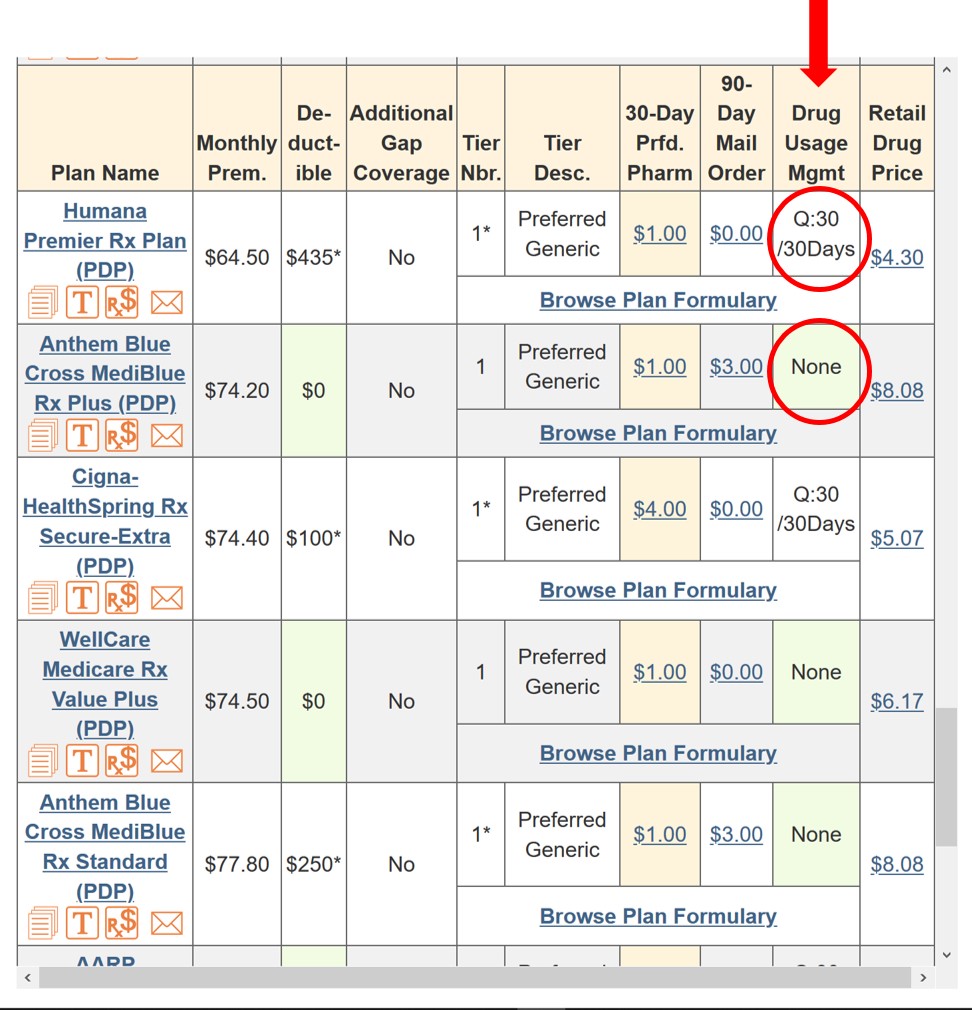 As reference, here is our
Q1Rx.com
Drug Finder key to Medicare Part D utilization management restrictions.
Drug Utilization Management or Coverage Rules
- (Drug Usage Mgmt)
None - This drug does not fall under any drug utilization management controls.
P - Prior Authorization -This drug is subject to prior authorization.
S - Step Therapy -This drug is subject to step therapy.
Q - Quantity Limits -This drug is subject to quantity limits. The actual quantity limit is shown as Q:Amount/Days. For Example: Q:6/28Days means the quantity limit is a quantity of 6 pills per 28 days and Q:90/365Days would mean that the plan limits this drug to 90 pills for the entire year.
You can also see related FAQs at: