A Medicare Part D PDP is a stand-alone Medicare Part D prescription drug plan that provides insurance coverage for your out-patient prescription drugs. (Prescription drugs you receive in the hospital or a doctor's office may be covered by your Medicare Part A or Medicare Part B.)
So like any insurance, you will pay a monthly premium (unless you join a plan with a $0 premium), pay an initial deductible (unless you join a plan with a $0 deductible or have a plan that excludes low-costing generics from the deductible), and receive some form of coverage for any drugs that are on your plans drug list or formulary at participating pharmacies (or pharmacies within the plans network).
Note:
Low-income Medicare beneficiaries may qualify for the
Medicare Part D Extra Help
program and have lower (or no) monthly premiums and pay very low costs for formulary drugs throughout the year.
Every Medicare Part D or Medicare Advantage plan is a little different with different premiums, initial deductibles, drug coverage (plans do not cover the same drugs), and cost-sharing (what you pay for your drugs). For more information, please see our popular Frequently Asked Question, "What is a Medicare Part D plan?" found at:
Q1FAQ.com/563
Question: How to choose a Medicare Part D PDP?
In general, you want a Medicare Part D plan that provides the most economical drug coverage at the pharmacies you usually visit. To learn more:
(1)
Which PDPs are available to you?
You can begin by reviewing the Medicare plans that are available in your area (see our Medicare Part D Plan Finder at
PDP-Finder.com
- you can
click here for an overview of our PDP Finder
or just choose your state to get started). You will see that each stand-alone Medicare Part D PDP provides unique coverage with different monthly premiums, deductibles, coverage cost, and drug coverage.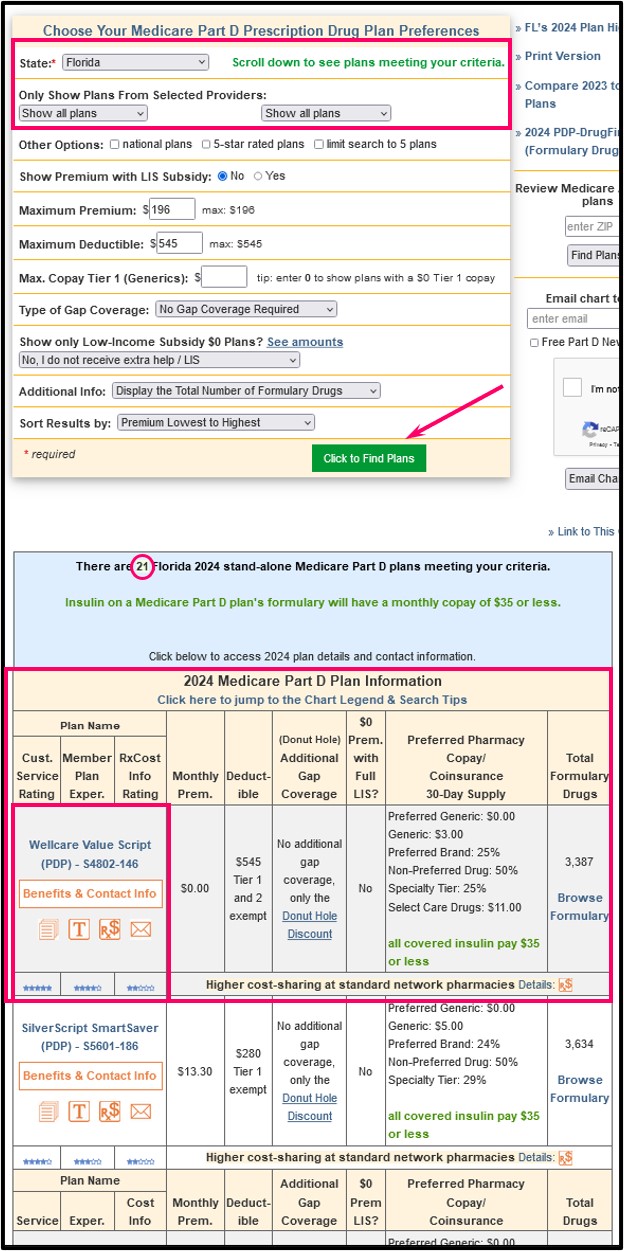 (2) Which drugs are covered by the Medicare Part D PDP?

Be sure to review the PDPs
Formulary
(drug list) and
cost-sharing
and
usage management restrictions
to learn more about how your PDP will cover your prescriptions.
Important:
Medicare Part D drug plans cover thousands of drugs(2,000 to 4,000), but drug plans are not required to cover all known prescription drugs - and all drugs are not covered at the same cost - and some drugs have additional coverage restrictions. Instead drug are only required to cover a fixed number of drugs in certain drug classes to be sure that all drug plans have a well-rounded offering of prescriptions.
You can also use our Formulary Browser to see the drugs covered by any plan (and at what cost and with what restrictions): see
Formulary-Browser.com
.
The medications covered by a Medicare Part D plan are organized in a formulary or drug list and you need to check the formulary to ensure your drugs are covered - or you can ask your Medicare plan
to make an exception
and cover a non-formulary drug - but a drug plan is not required to grant your request. Some drugs
are also excluded by law
from Medicare Part D coverage, but may be covered by your plan as supplemental drugs.
(3) Ready to enroll or need additional assistance?
If you are ready to choose a Medicare Part D plan that most economically covers your medications at your chosen pharmacy - call a Medicare representative at 1-800-633-4227 for enrollment assistance or a Medicare representative can offer help finding a plan and enrolling into a plan.
(4)
What happens after enrollment?
Once you are enrolled in the Part D PDP, you will pay a monthly premium (like any other insurance), then you may pay an initial deductible before your plan coverage begins (although some drug plans have a $0 deductible). You and your Part D plan will then each
share a portion
of the drug's coverage costs (for example, your Part D plan may pay 75% of retail drug prices and you pay the 25% balance - or you may pay a $2 co-pay for your generic drugs and a $47 co-pay for brand-name drugs).