Medicare should mail you a printed copy of the Medicare & You handbook each year with Medicare Part D and Medicare Advantage plans that are available in your area, unless you have opted out of receiving a mailed version.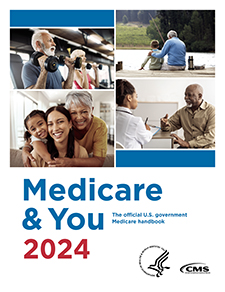 2024 Medicare & You Handbook
Available for download as PDF (in English & Spanish plus archive)
.
We also provide an electronic version of the Medicare & You available for download at:
q1medicare.com/PartD-MedicareAndYouCMSGuideToMedicare.php
Please note that this handbook is about 128 pages and you may wish to view the document on your computer and not opt to print your own copy.
Our
Medicare & You Handbook archive
offers versions back to 2006.
If you did not receive a copy this year or need another copy, you can order a printed copy of the Medicare & You handbook by calling: 1-800-633-4227 (1-800-MEDICARE) and speaking with a Medicare representative. Or online at:
www.medicare.gov/publication-ordering/10050
. Remember, this will most likely not include the plans available for your mailing address, but rather be a general version that has no plan information (the same version that we offer for download above).