A Quantity Limitation (Quantity Limit), according to the Centers for Medicare and Medicaid (CMS) is defined as:
For safety and cost reasons, plans may limit the quantity of drugs that they cover over a certain period of time.
(source: Medicare.gov)

Quantity Limits
(QL) are usually a part of a Medicare Part D prescription drug plan's utilization management policy (also known as Usage Management Restriction or Drug Restrictions).
Even if you did not change Medicare prescription drug plans, it is possible that, starting in January, your new prescription drug plan has implemented some form of utilization management (also known as drug restrictions or drug usage management restrictions) in their formulary to keep costs down and protect their plan members.
Your Medicare Part D plan formulary will show any Quantity Limits for your medications and you can also see the Quantity Limits for all formulary medications by using our Drug Finder (
Q1Rx.com
).
For example:
"Q:6/28Days" meaning the quantity limit is a quantity of 6 pills per 28 days or "Q:90/365Days" meaning the Medicare Part D plan limits this drug to 90 pills for the entire year.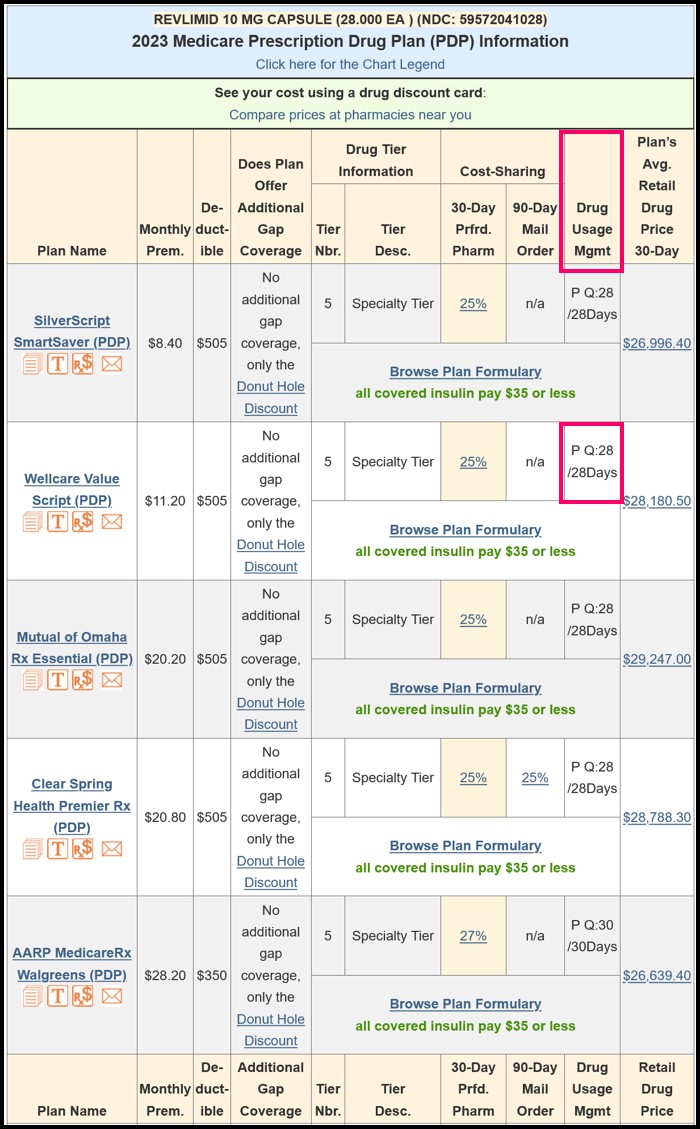 See also:
Where do I get a list of the number of pills I can get at one time?
In general, drug restrictions or utilization management includes such prescription controls as:
Quantity Limits (for example, only allowing plan members 30 tablets per 30 days) or
Prior Authorization (requiring members to get plan approval before filling a prescription) or
Step Therapy (having members try lower-costing medications before using a more expensive drug).

Please remember
: Just like when we are dealing with non-formulary drugs, you have the right to ask your plan for a formulary exception if you wish to be exempt from a specific usage management requirement.
Click here to learn how to request a formulary exception
.
Also, don't forget about asking for a transition fill.
If your medication is now subject to utilization management restrictions, you can ask your Medicare prescription drug plan for a one-time,
transition fill
or temporary supply of your medication for 30 days while you are filing a formulary exception request that would allow you to be exempt from the usage management restriction..
According to the Centers for Medicare and Medicaid Services (CMS) the
transition fill
policy will apply to non-formulary Part D drugs and includes
"Part D drugs that are on a sponsor's formulary but require prior authorization or step therapy, or that have an approved [quantity limit] QL lower than the beneficiary's current dose, under a plan's utilization management requirements. This is because a formulary drug whose access is restricted via UM requirements is essentially equivalent to a non-formulary Part D drug to the extent that the relevant UM requirements are not met for a particular enrollee."