A Special Needs Plan (SNP) is a type of Medicare Advantage plan (MAPD) with healthcare benefits, provider choices, and drug formularies (list of covered drugs) designed for people who meet certain health or personal requirements such as people suffering from a chronic condition (diabetes or ESRD) -- or have limited income and assets -- or people living in a long-term care (LTC) facility.
And no, not everyone can join a SNP . . .

Anyone who has Medicare Part A and Medicare Part B coverage can join a Medicare Advantage plan (MA or MAPD) if the person lives within the plan's service area (Zip Code area). (And from 2006 to 2020, the applicant could not suffer from kidney-failure or End-Stage Renal Disease (ESRD) - although in 2021, this restriction against ESRD applicants was removed.)

However, you cannot join a Medicare Advantage SNP unless you also qualify for the plan's "Special Need" (for instance, you suffer from the specified chronic illness, like ESRD or financial need).

More about SNPs . . .

A Medicare Special Needs Plan, according to the Centers for Medicare and Medicaid (CMS) is defined as:

A special type of Medicare Advantage Plan that provides all Medicare Part A and Part B health care and services to people who can benefit the most from things like special care for chronic illnesses, care management of multiple diseases, and focused care management.

So, SNPs are separated into three major types of special needs:

Chronic Illness (C-SNPs) -- like End-Stage Renal Disease (ESRD), HIV/AIDS, chronic heart failure, dementia, or diabetes,
Dual Eligible (D-SNPs) -- for Medicare and Medicaid beneficiaries, and
Institutional (I-SNPs) -- for Nursing and Long-Term Care (LTC) residents.

Question: Do SNPs offer Medicare Part D drug coverage?

Yes. All Medicare Advantage SNPs must provide their plan Members with prescription drug coverage (MAPD). The prescription drug coverage is often designed to meet the SNP's particular needs - such as providing for certain medications on the SNP's formulary - or the SNP may provide an additional formulary tier that includes specific medications for the SNP members, this tier is often titled:
"select care drugs".

CMS (or Medicare) also goes on to note several other key aspects of a SNP:


Question: If I join a Special Needs Plan (SNP) can I get my health care from any doctor, other health care provider, or hospital?

No. Since a SNP is a Medicare Advantage plan, you generally must get your healthcare and related services from doctors, other health care providers, or hospitals in the plan's network (except for emergency care, out-of-area urgent care, or out-of-area dialysis).


Question: Do I need to choose a primary care doctor?

Generally, yes.


Question: Do I have to get a referral to see a specialist?

In most cases, yes. However, certain healthcare services, like yearly screening mammograms or healthcare checkup, don't require a referral.


Question: Are SNPs widely available across the country?

No. Medicare Advantage SNPs are offered only on a limited county-by-county basis and, again, Medicare beneficiaries must meet the specific SNP requirements - and are often found in more densely populated areas. Also the SNP "landscape" changes each year and this means your current Medicare Advantage SNP may not be available next year - but, you may find a new SNP being offered in your county that you can join. Please note that the number of SNPs are increasing over the past years.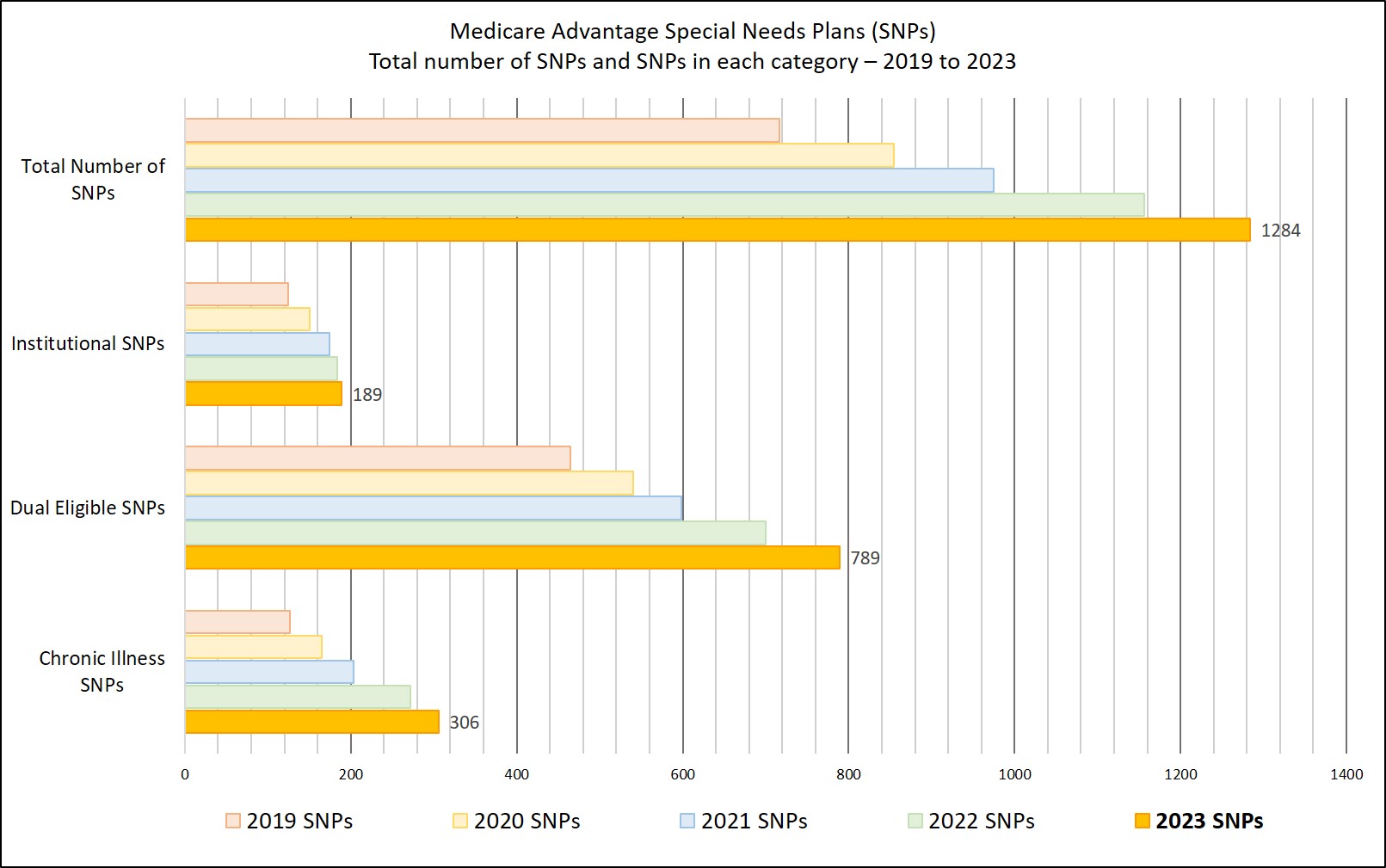 Question: What happens when I am in a SNP and no longer meet the plan requirements?
Possible disenrollment. People who qualify to enroll in a SNP can be disenrolled from the SNP if, during the plan year, they no longer meet the plan's requirements. For instance, if a person in a Dual-Eligible SNP (D-SNP) begins to earn more money they might no longer meet the plan's financial requirements, they may be enrolled from the D-SNP - or if a person no longer suffers from a certain chronic condition, they can be disenrolled from the SNP.

The good news: If you are disenrolled from a SNP, you will be provided a Special Enrollment Period allowing you the opportunity to join another Medicare Advantage plan or Medicare Part D plan.

And still more Questions/Answers from CMS:

Question: What else do I need to know about this type of Medicare plan?

[As noted above, a SNP] must limit membership to these groups:

1) people who live in certain institutions (like LTC facilities or nursing homes) or who require nursing care at home, or

2) people who are eligible for both dual-eligible for Medicare and Medicaid, or

3) people who have specific chronic or disabling conditions (like diabetes, End-Stage Renal Disease, HIV/AIDS, chronic heart failure, or dementia).

Plans may further limit membership.


A Medicare Advantage Special Needs plan for Dual-Eligible Medicare/Medicaid beneficiaries (D-SNP) can also exclude people who suffer from End-Stage Renal Disease, even though, after 2021, people with ESRD are allowed to join any Medicare Advantage plan. Medicare noted in the comments to the regulations dealing with ESRD and Medicare Advantage plan enrollment: "States already have the ability in their state Medicaid agency contract with each D–SNP to restrict which dually-eligible individuals may enroll in the D–SNP. If the state's contract with a D–SNP excludes those with ESRD, the D–SNP may retain that exclusion in order to comply with the state contract required under § 422.107."


Plans will coordinate the services and providers you need to help you stay healthy and follow doctors' or other health care providers' orders.


For more information, you can use our Medicare Advantage plan finder at MA-Finder.com or Medicare.gov/find-a-plan to see if there are SNPs available in your area.


If you need more information about coverage, please be sure to telephone the plan and speak with a plan representative. You can find the plan's member services telephone number by clicking on the "benefits & contact info" button on our Medicare Advantage plan finder found at: MA-Finder.com.

Sources include:
Medicare.gov
https://www.govinfo.gov/content/pkg/FR-2020-06-02/pdf/2020-11342.pdf