Answer
:
Yes.
Our Medicare Part D Donut Hole calculator or
PDP-Planner
is designed so seniors and other Medicare beneficiaries can see how their Part D drug spending could change throughout the year and help estimate annual drug costs.
To begin, you simply enter your average monthly Medicare Part D retail drug costs, choose the month when your coverage begins (usually, January), change your plan's Initial Deductible (if you wish), and choose your approximate mix of generic or brand-name drugs.
(You can get an
estimate of your retail drug costs
using our
Q1Rx.com
Drug Finder. Just enter the name of your formulary drug, location, and see the retail prices across all Medicare drug plans in your area.)
To help you visualize your potential drug spending, we show a chart of how your estimated annual drug costs are organized by month and the four Medicare Part D plan phases (Initial Deductible, Initial Coverage Limit, Coverage Gap, and Catastrophic Coverage) .
Our PDP-Planner tool or Donut Hole Calculator uses the annual Centers for Medicare and Medicaid Services (CMS)
defined standard
Medicare Part D prescription drug plan benefit parameters (assuming a 25% co-insurance as cost-sharing during the Initial Coverage Phase), the annual
Donut Hole discount
, and even calculates your "
straddle claims
" -- drug purchases that cross over more than one drug plan coverage phase. The results of the Donut Hole Calculator can be sent directly to your email account, printed, or viewed online.
We even have older versions of our Donut Hole calculators online
in our "Plan Archives" section
if you wanted to see how your estimated Medicare Part D spending might have changed over the years.
How about an example?

To get started, we have several Donut Hole or Coverage Gap examples online. You can
click here for an example
of a Medicare beneficiary with relatively high monthly prescription drug costs (retail drug costs averaging $800 per month), an initial deductible of $415 (the standard 2019 deductible), and we chose to have all of the $800 drug costs are for brand-name formulary medications (0% Generic / 100% Brand).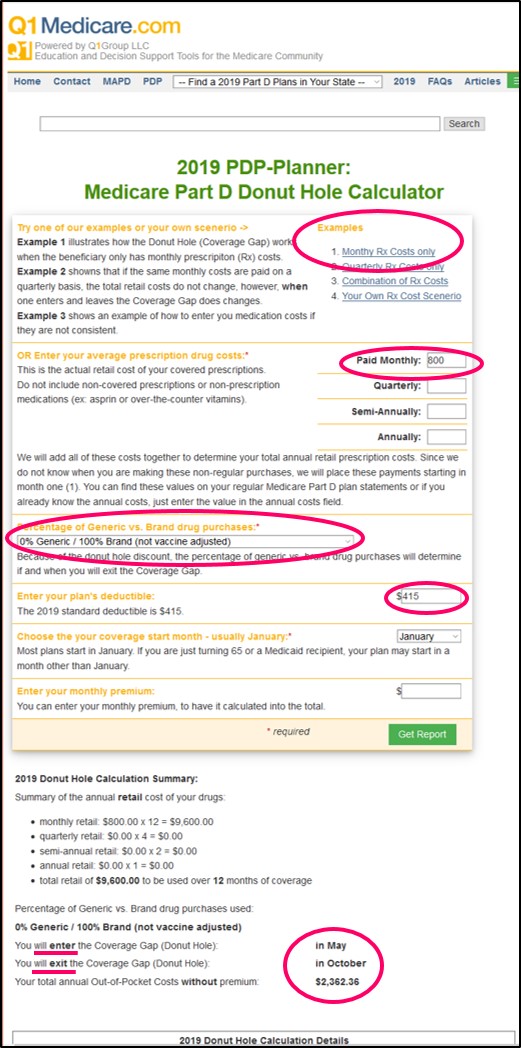 Right under the example, you can see that this Medicare beneficiary can anticipate entering the Donut Hole or Coverage Gap in May 2019 when their Initial Coverage Limit of
$3,820
is exceeded.
With monthly retail drug costs of $800, this same person can expect to exit the 2019 Donut Hole in October 2019 and enter the
Catastrophic Coverage phase
when their
True or total out-of-pocket costs
(
TrOOP
) exceeds $5,100.
In our example, this person's total out-of-pocket drug expenses would be approximately
$2,363.
(We are assuming coverage began in January - and the Medicare Part D plan included the standard 25% co-insurance rate during the person's Initial Coverage Phase - and 100% of the brand drugs purchased in the Donut Hole received the 75% Donut Hole discount - with 95% of the retail drug costs during the Donut Hole applying to TrOOP.)
As a summary, an overview chart shows how this person's drug costs change month-to-month based on the phases of their Medicare Part D plan coverage.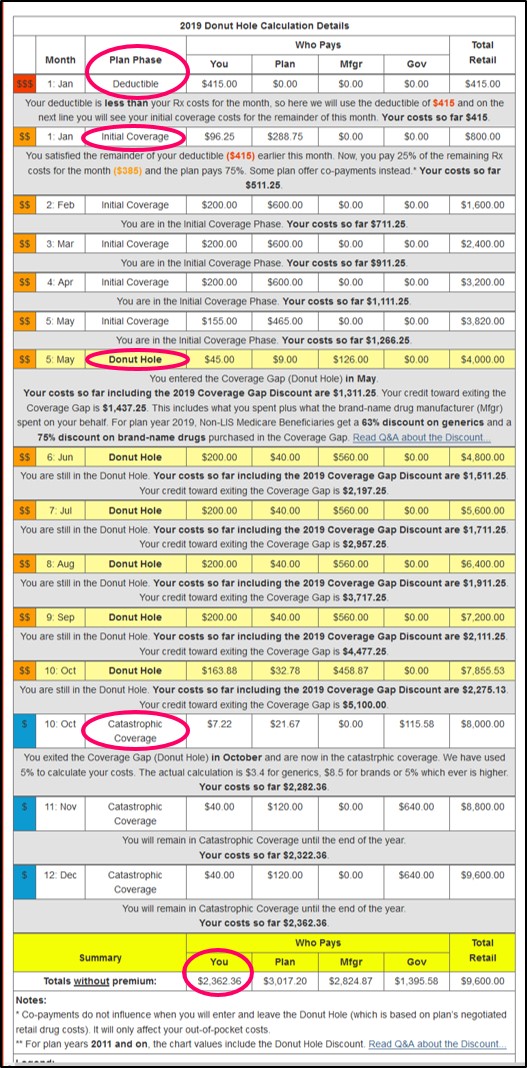 If you wish, you can change
the $800 value in our example
to your own prescription spending - change the deductible (which is set at $0 by default) - and choose your mix of generic or brand-name drugs) to see a preview of your own 2019 Medicare Part D drug coverage.
Still not sure what all these numbers mean to you?
Click here and let us know
.