Yes. We have our Formulary Browser online that includes every Medicare Part D and Medicare Advantage plan formulary or drug list and all formularies are formatted for alphabetical browsing. You can access our Formulary Browser directly be using the URL: https://Formulary-Browser.com.
Where can I find a link on the Q1Medicare.com site to your Formulary Browser?

You can find a link to our Formulary Browser from most of our Q1Medicare pages and here are a few tips:

(1) On the our left-hand side of every Q1Medicare.com page (if you are using a PC), is the link "Browse any 20xx Drug Formulary" –

(2) In the left-navigation on every page you will also see a link "Browse Any 20xx Medicare Plan Formulary (or Drug List)".

(3) In the top margin of every page, you will see a drop-down list box that includes "Browse a 20xx Formulary (Drug List)".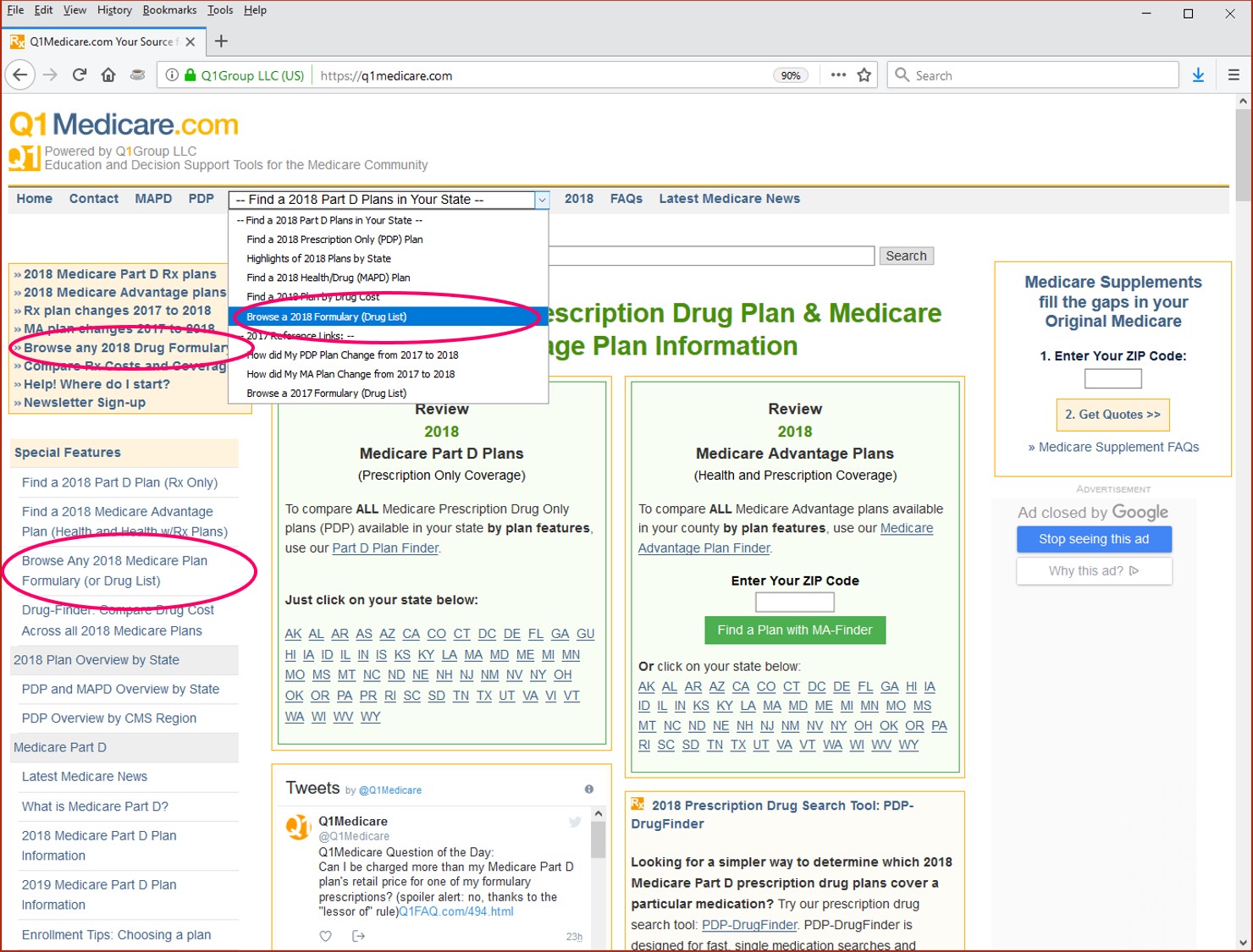 Tip: Viewing our Q1Medicare Site Using a Tablet, Mobile/cell phone, or Other Small-Screen Device

If you are using a mobile device (tablet or cellphone) or a very small PC, the left-hand navigation will be collapsed and you will need to click on the green box at the top-right of every page labeled "MENU" and this will expand the left-hand navigation so you can see the "Browse any 20xx Drug Formulary" link.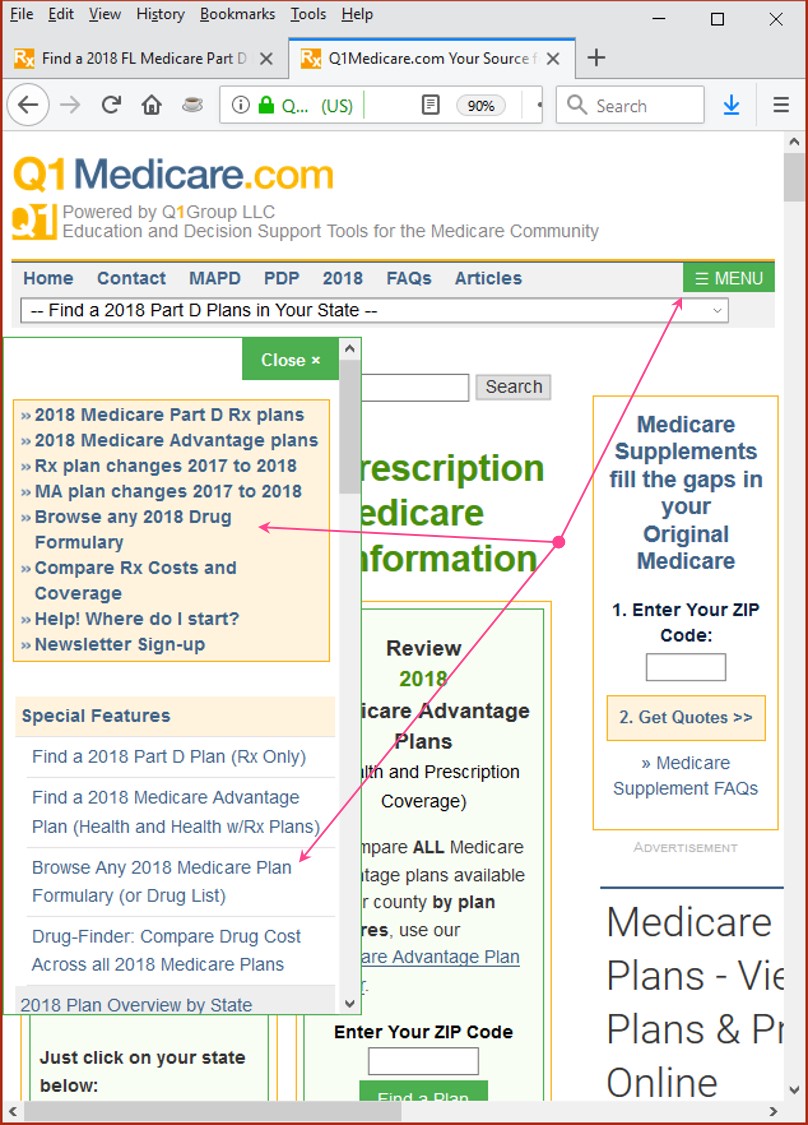 (4) In the orange box in the right-hand margin of every page you will find the link "
Formulary Browser: View any 2018 Medicare plan formulary
".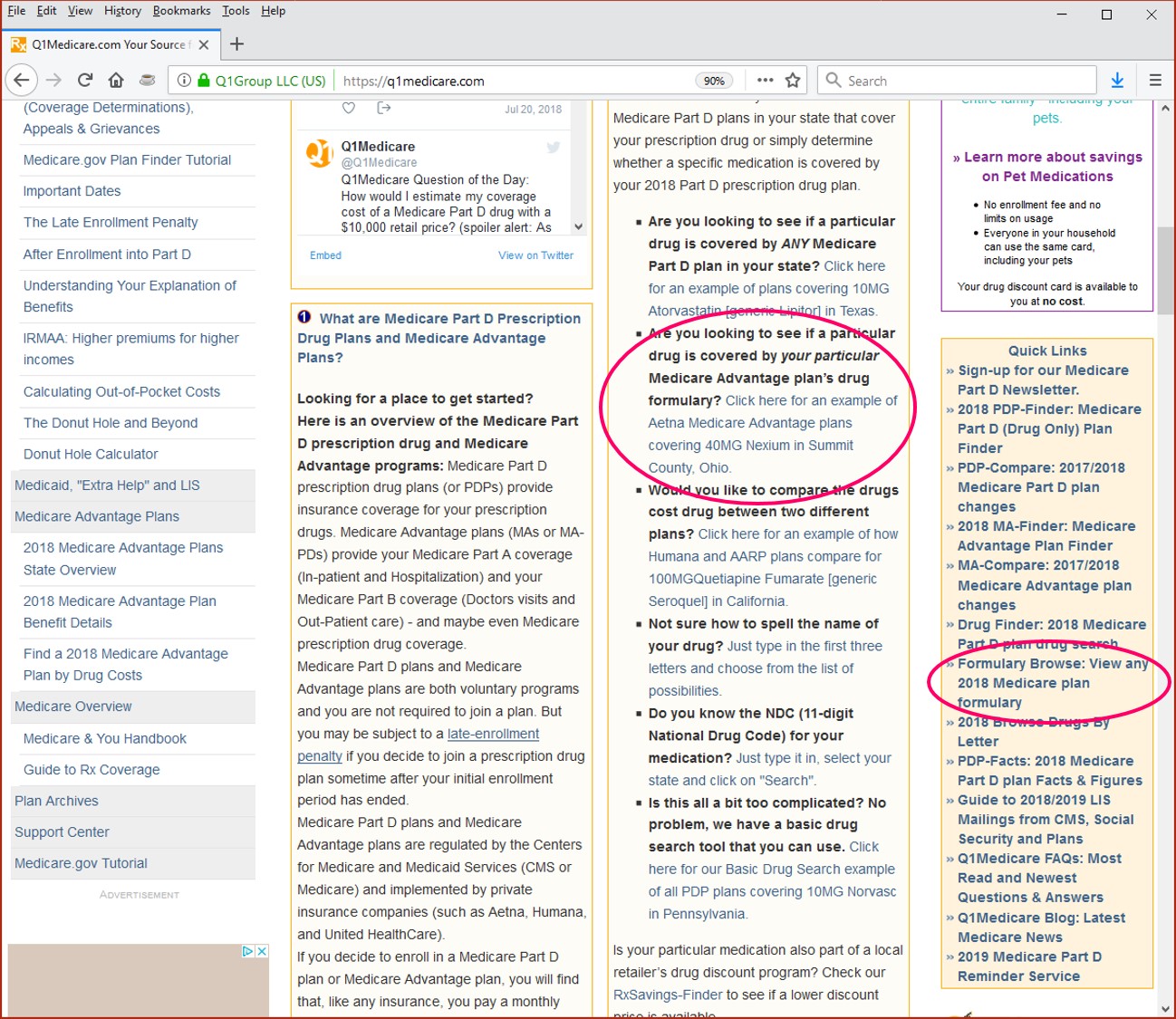 (5) We also have a link to "Browse Formulary" from our Medicare Part D plan finder (
PDP-Finder.com/FL
) – this link is found in the right-column along for every Medicare Part D plan.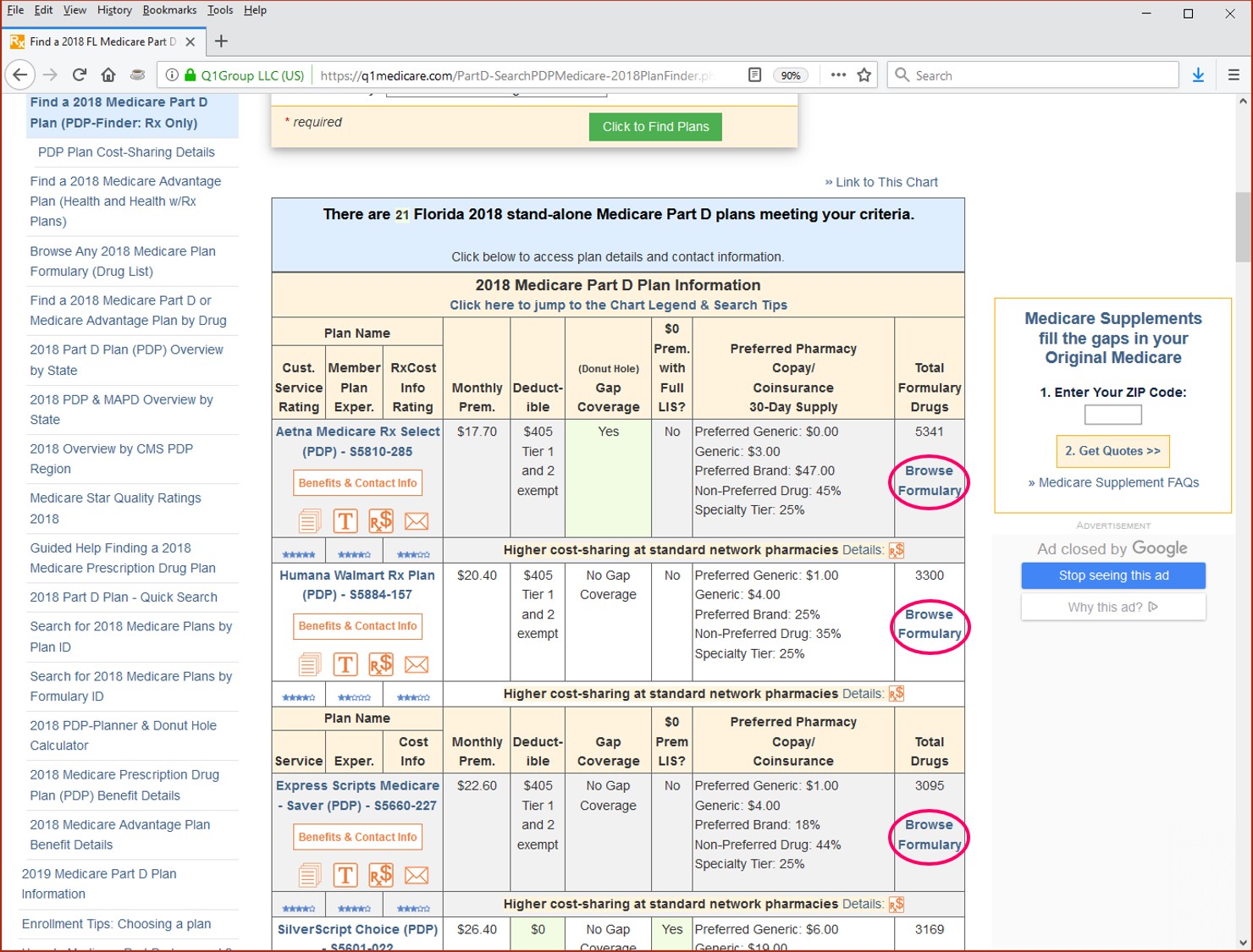 (For further assistance, here is also a Frequently Asked Question about using our
Medicare Part D plan finder
with screen shots to help you use the plan finder:
https://Q1FAQ.com/435.html)
You can also find the same "Browse Formulary" link in the right column on our
Medicare Advantage plan finder
(
MA-Finder.com
) for any Medicare Advantage plan that includes drug coverage (MAPD).
(6) If you find a Medicare plan that you like, but miss the "Browse Formulary" link in the right-column, you will also find the same link once you click on the Medicare plan name link and look at the plan details.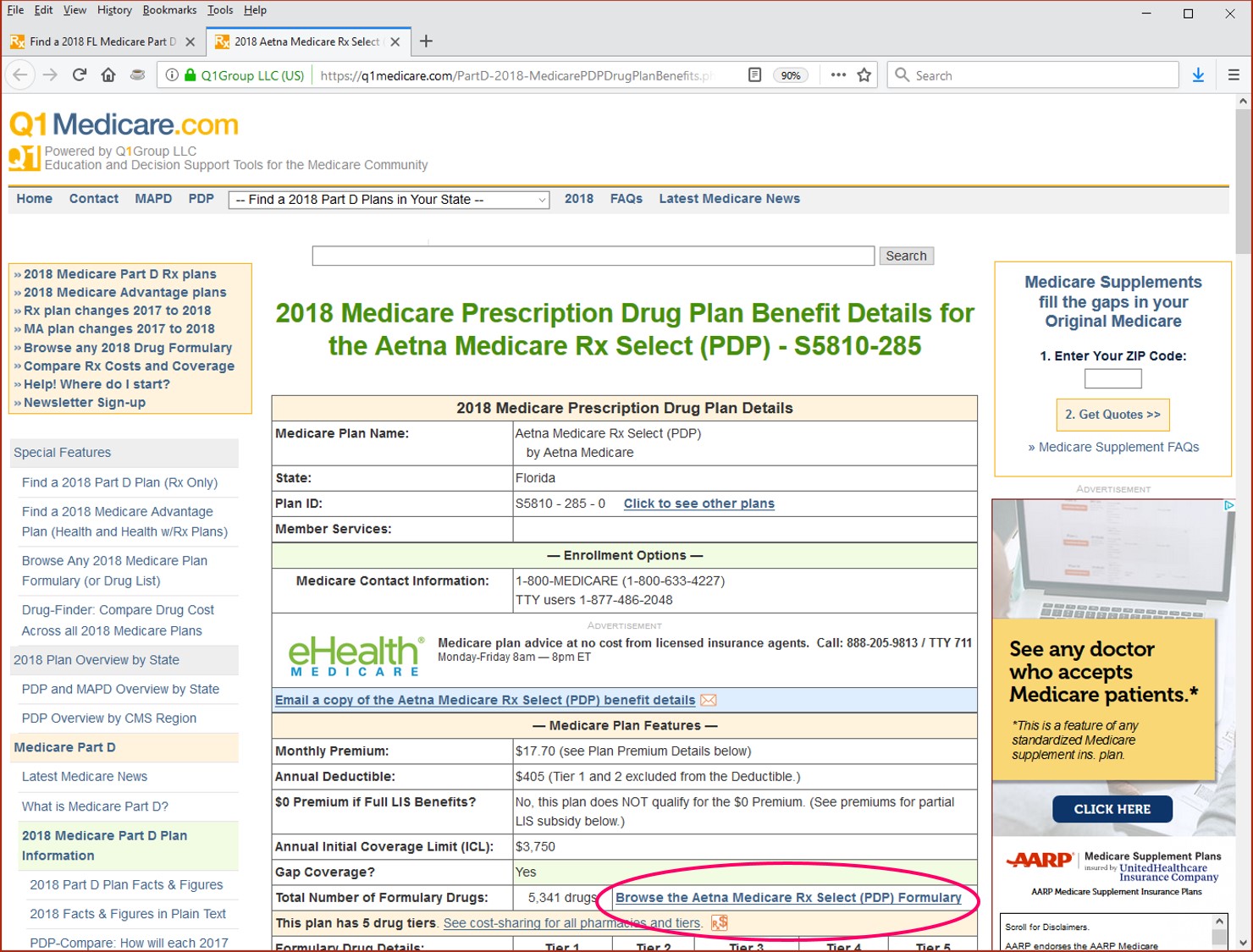 (7) We also link to every Medicare drug plan formulary that covers a particular medication as shown on our Drug Finder (
Q1Rx.com
). Our Drug Finder shows how a particular drug is covered by Medicare plans in your service area and our Drug Finder (like our Formulary Browser) can be also accessed in the left-navigation, right-column, and top-margin drop-down box.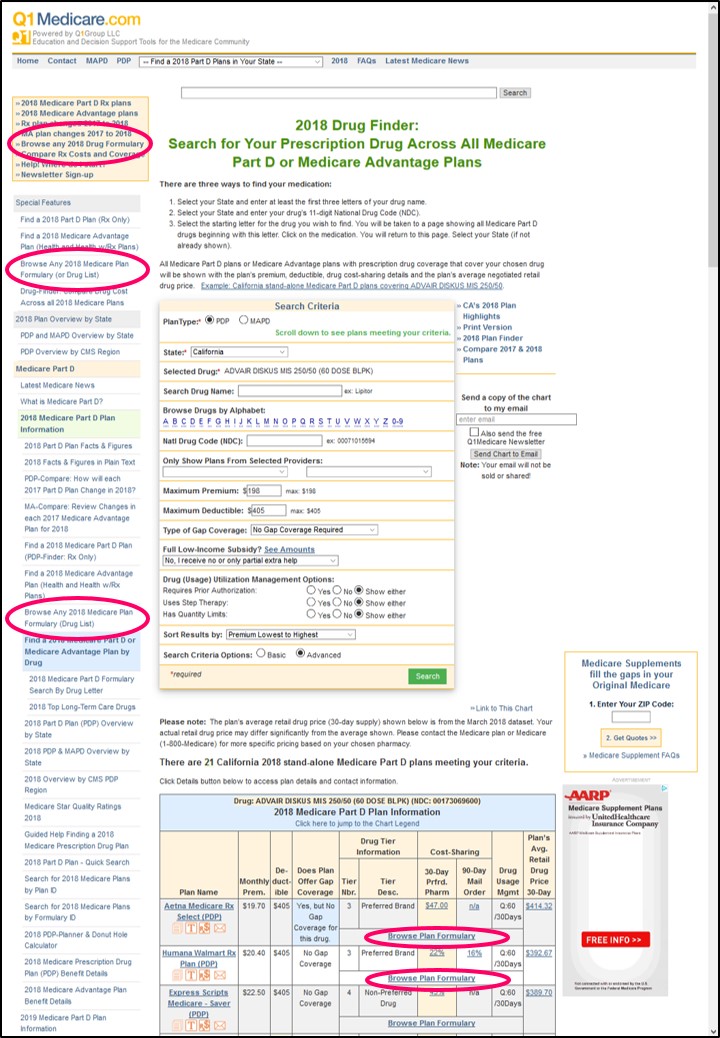 What's next after finding the Formulary Browser?

When you click on any of the above Formulary Browser links, you can choose PDP (stand-alone Medicare Part D plan) or MAPD (Medicare Advantage plan that includes drug coverage). PDP is chosen by default. You can then choose your state from the "State" drop-down box and choose your "Plan Family" from the drop-down box (such as "AARP plans" – then click the green "Search" button and you will see the plans available from this provider in your state and you can choose one of those plans to see the formulary. The drugs are listed alphabetically.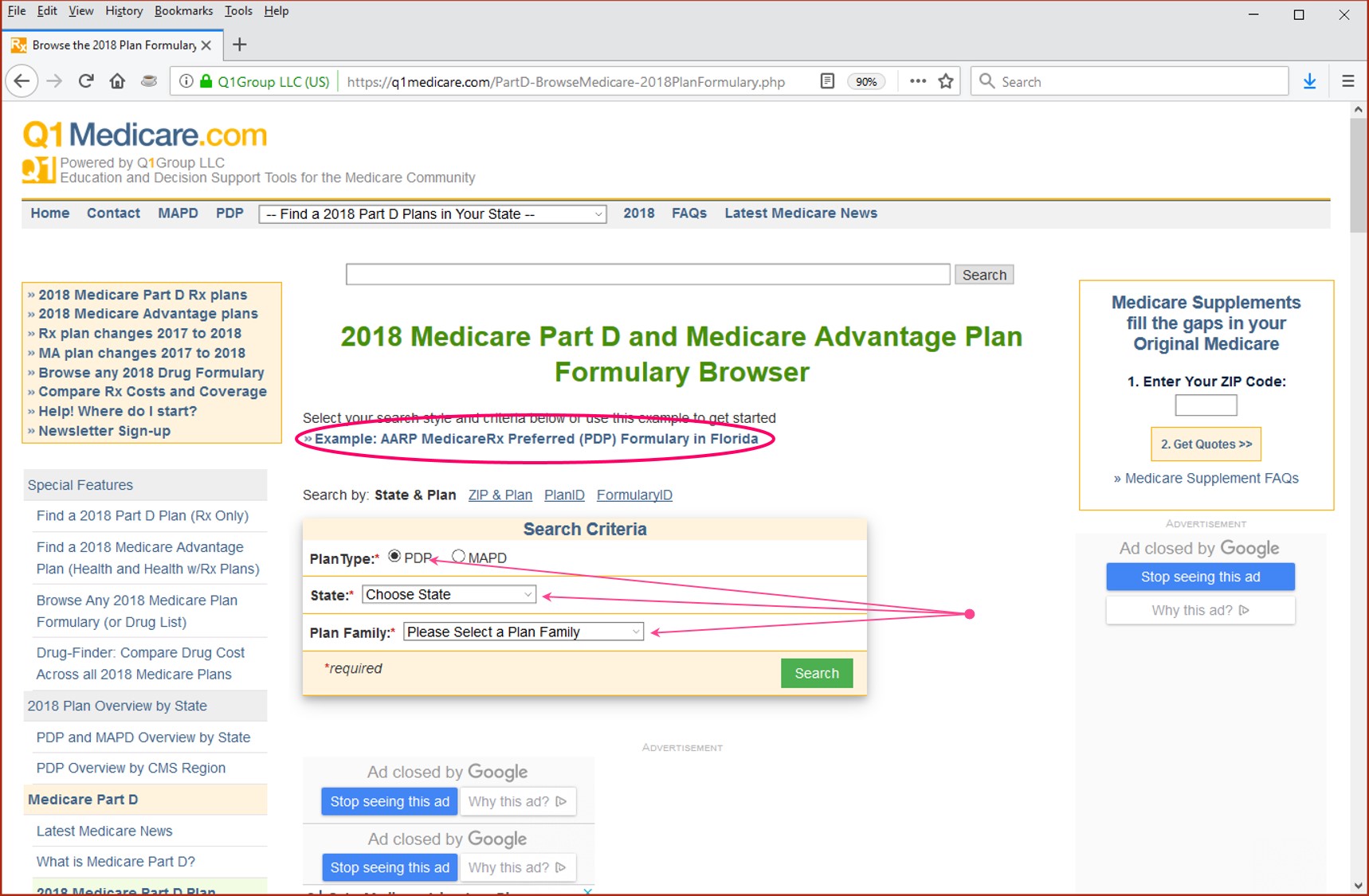 Can you give me an example to get started?

To help you get started, there is an example link at the top of our Formulary Browser page that states "Example: AARP MedicareRx Preferred (PDP) Formulary in Florida" (https://q1medicare.com/PartD-BrowseMedicare-2018PlanFormulary.php?stateReg=11FL&contractId=S5820&planId=010) - you can click on the link and see how this Medicare plan's formulary is displayed. At the top of the page is the plan information (and chosen state or Service Area) and you can change these to update your Formulary Browser search. You have the ability to "hide" certain drug tiers for example, if you only want to see the Tier 5 drugs covered, "hide" drug tiers 1 through 4.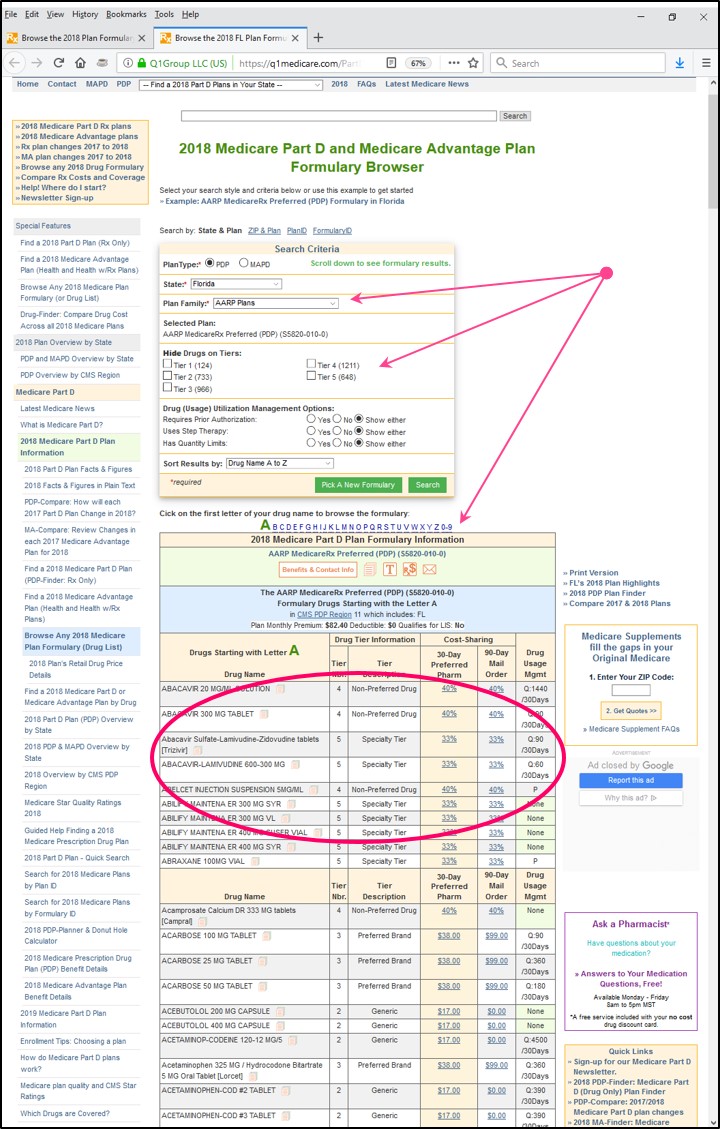 If you click on the cost-sharing information link (such as
33%
or
$38.00
) you can see the details of how this particular drug is covered by your chosen Medicare Part D or Medicare Advantage plan. We show estimated retail drug prices (when available) and estimated costs throughout the phases of the drug plan.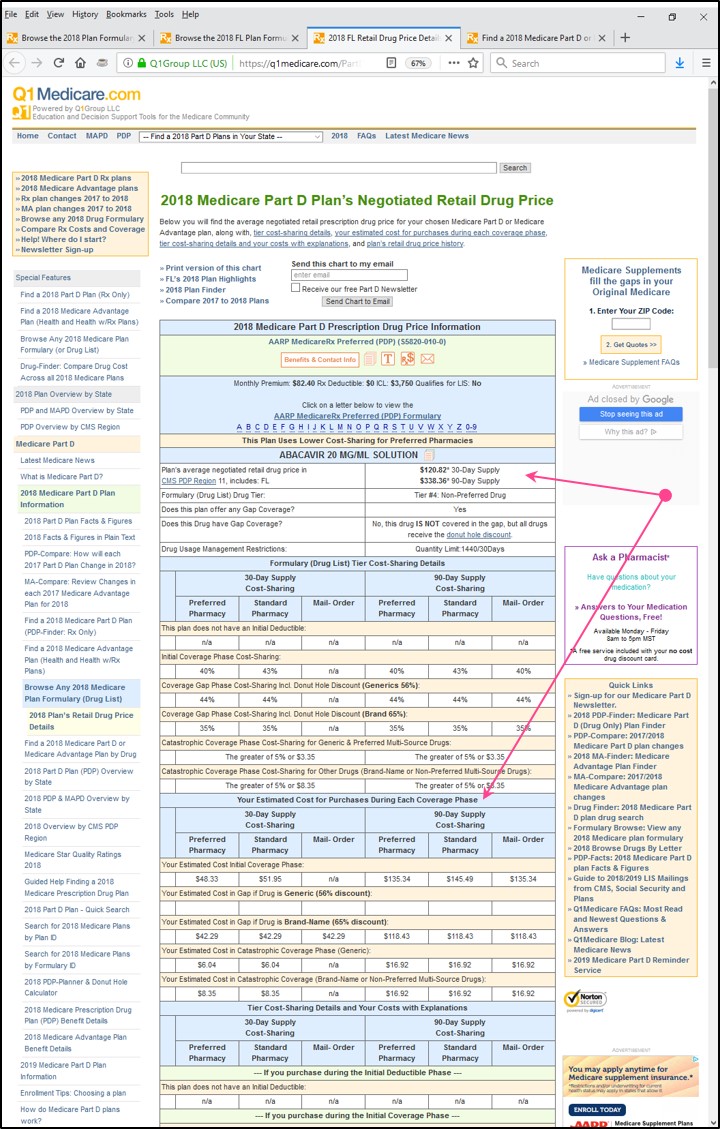 Using the Formulary Browser with PlanID and FormularyID Searches

Pharmacists, prescribers, and healthcare professionals can also access Medicare prescription drug plan formularies by selecting the "PlanID" tab and search by Medicare plan Contract/Plan IDs or by selecting the "FormularyID" search tab and entering the plan's unique eight-digit Formulary ID.

As a convenience, both the Contract/Plan ID and the Formulary ID search results will return the geographical service area for the chosen Medicare plan along with the Medicare plan's formulary details and the actual Medicare plan features.

A note on Bonus Drugs and Periodic Formulary Changes

Please note, our Formulary Browser does not include "supplemental" or "bonus" medications that are excluded from Medicare Part D coverage, but still covered by some Medicare Part D plans. Supplemental drugs may include over-the-counter (OTC) medication (such as cold or cough medications), vitamins, nutritional supplements, or prescription drugs for hair loss or erectile dysfunction (ED) (that are excluded from the Medicare Part D program). Supplemental drugs do not count toward your Medicare Part D plan spending and do not receive the Donut Hole discount.

Medicare Part D prescription drug plans are allowed to update their plan formulary or drug list throughout the year and we update our online data as plan formularies change. However, it is possible that a Medicare plan will make a formulary change that has not yet been reported to us - and may not even be seen on the Medicare.gov Plan Finder - and this means you should always confirm your formulary questions with your Medicare plan's Member Services department using the toll-free number found on your Member ID or by calling a Medicare representative at 1-800-633-4227.