Probably forever.
The
late-enrollment premium penalty
is permanent for most people over 65 and you will pay the penalty as long as you are enrolled in a Medicare Part D prescription drug plan (or a Medicare Advantage plans that include drug coverage or MAPDs).
However, if you are under 65 and eligible for Medicare due to a disability, you will have a second chance to join a Medicare prescription drug plan when you turn 65 (during your Initial Enrollment Period) and if you join a Medicare drug plan at this time, you will move forward
without the penalty
.
Also, if you are eligible, or become eligible for the Medicare Part D financial Extra Help or
Low-Income Subsidy (LIS)
program, you will not pay a late-enrollment penalty.
Suggestion:
If you are using no medications and are in good health, consider enrolling in a
Medicare Part D plan
with a low monthly premium and avoid a possible long-term penalty - or consider a
Medicare Advantage plan
that includes prescription drug coverage and has a low or $0 premium.
And now the bad news: How a late-enrollment penalty accumulates over time
If you were eligible for Medicare Part D plan coverage back in January 2006
and
never joined a Medicare Part D plan until 2018
and
are not eligible for the Extra Help (or Medicare LIS) program
and
have been without any other creditable prescription drug coverage (such as employer or VA coverage) since the start of the Medicare Part D program (139 months),
then
you would now have a monthly late-enrollment penalty for of around
$48.70
in 2018 – paid in addition to your monthly Medicare Part D plan premium.
This means you would pay an additional
$584 per year.


We calculated the maximum penalty as (139 months without some form of creditable drug coverage) * (1% of $35.02 - the 2018 annual Medicare Part D base premium) = $48.70 per month (rounded to the nearest $0.10).
The ever-increasing "cost of waiting" to enroll in a Medicare Part D plan.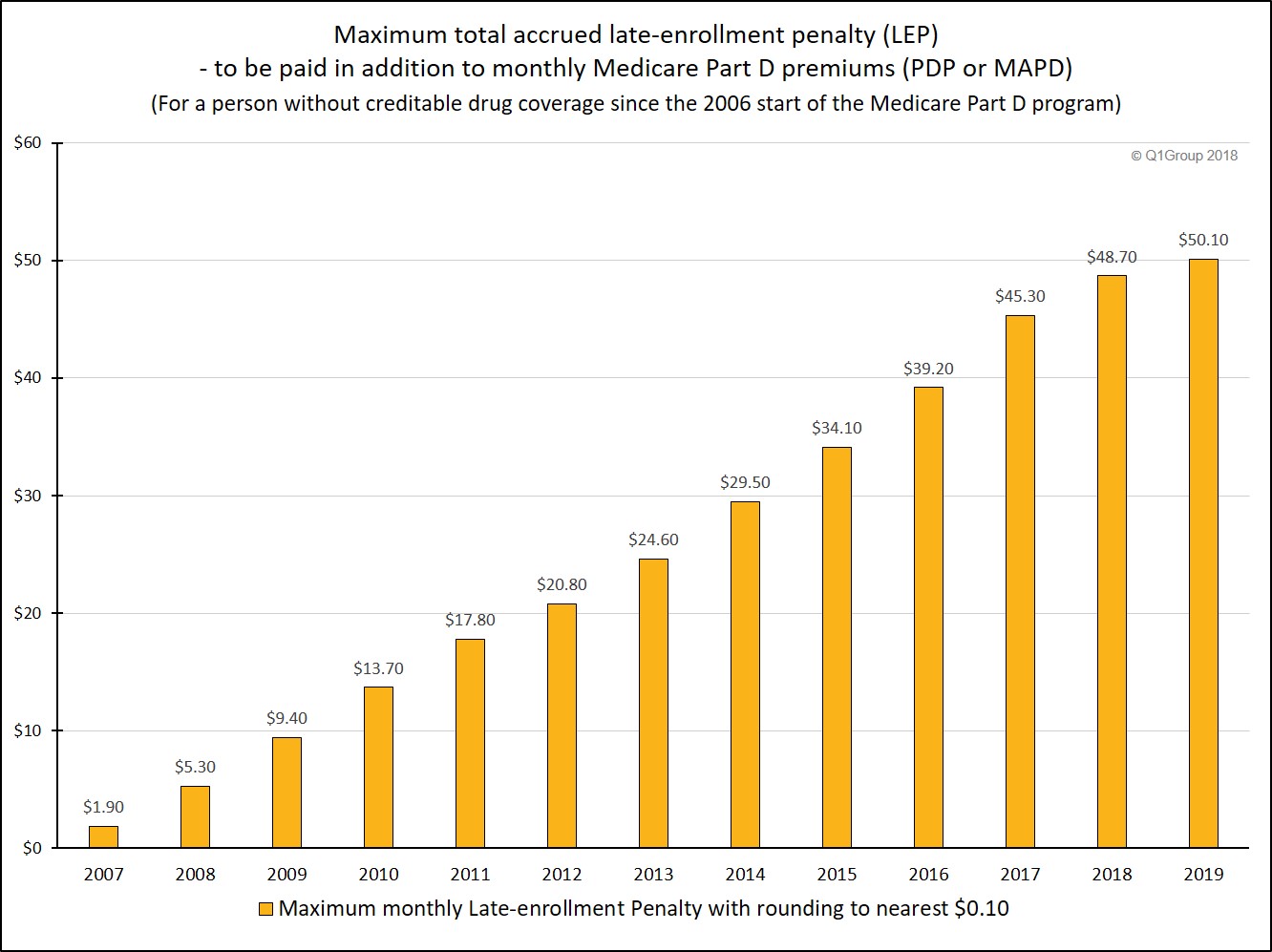 You can click here to read more and see how the "value of waiting" to join a Medicare plan balances against paying a permanent late-enrollment penalty:
https://Q1News.com/641.html
You can also read more about the late-enrollment premium penalty in our Medicare News section: "
Late Enrollment Penalty
".