Your Medicare Advantage plan's Maximum Out-of-Pocket (
MOOP
) threshold limits how much you will spend on co-payments and co-insurance for eligible Medicare Part A (in-patient or hospitalization) and Medicare Part B (out-patient or doctor visit) coverage. A higher MOOP limit means you will pay more out-of-pocket for your Medicare Part A and Medicare Part B covered services before reaching the annual maximum cost threshold.
Each year MOOP limits can change and in 2021, the Centers for Medicare & Medicaid Services (CMS) will allow Medicare Advantage plans to increase their Maximum Out-of-Pocket limit to $7,550 from the 2020 MOOP limit of $6,700.
The $7,550 MOOP applies to
in-network
Medicare Part A and Medicare Part B eligible medical cost-sharing. Please note that local and regional PPO Medicare Advantage plans can have a combined maximum MOOP of $11,300 (
in-network and out-of-network
).
Based on these annually established MOOP limits, each Medicare Advantage plan then sets their plan's MOOP (see below for an explanation) — with the approval of the Centers for Medicare & Medicaid Services (CMS).
And this means:
If you have high healthcare expenses, you may see your Medicare Advantage plan covered healthcare total expenses increase slightly, but Part A & Part B expenses will not exceed $7,550 for in-network Medicare cost-sharing (remember, this does not include Part D prescription drug expenses).
The range of in-network 2021 MOOP thresholds
The 2021 Medicare Advantage MOOPs range from $0 to $7,550 — and often Medicare Advantage plans with a MOOP of $0 are
Medicare Advantage PFFS plans
, MSAs, or Cost plans. The following chart shows how the MOOP range has changed from 2017 through 2021. Our chart excludes $0 MOOP plans and introduces the new $7,550 maximum 2021 MOOP (as compared to $6,700 in past years) and the new voluntary MOOP of $3,450 (as compared to $3,400 in past years).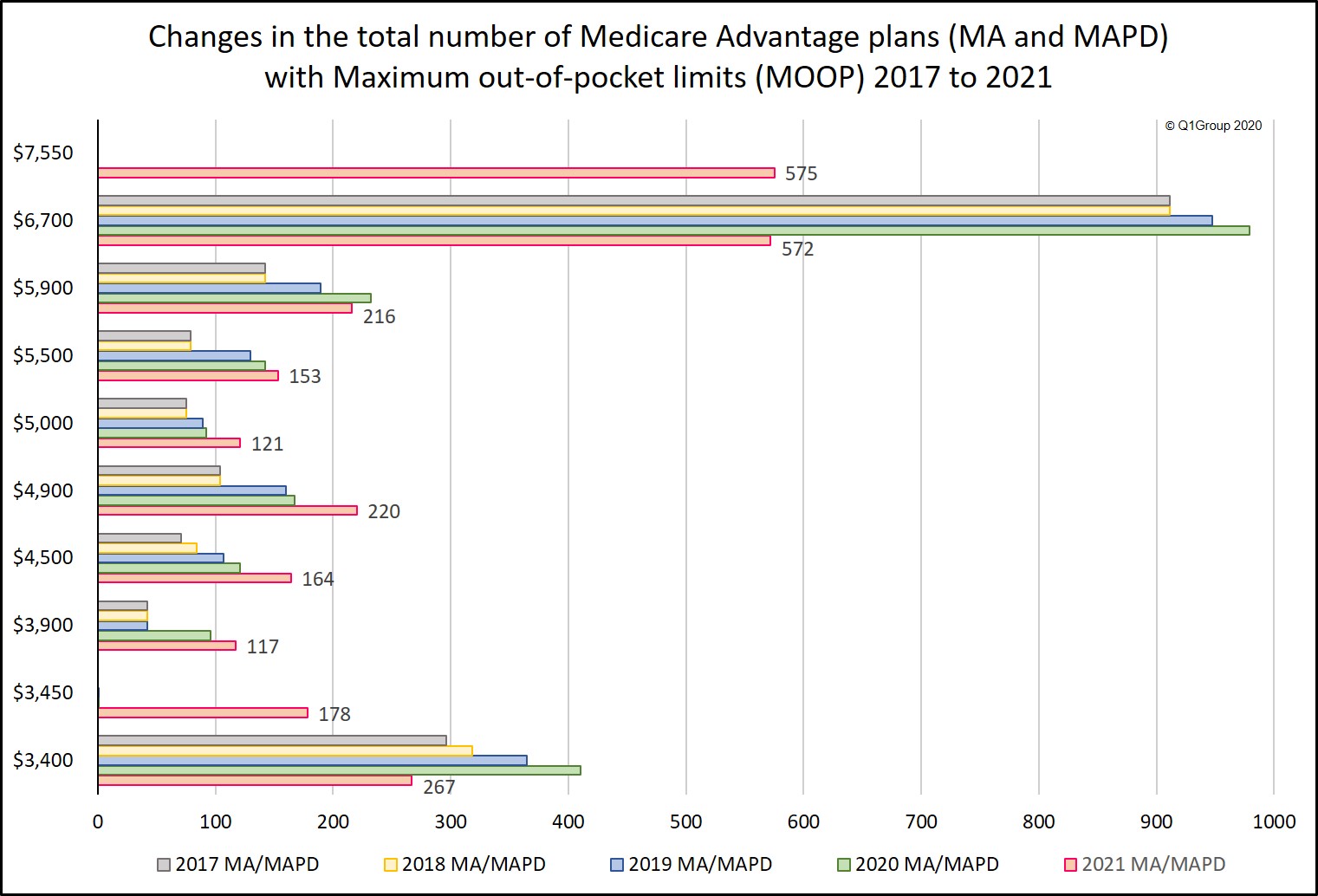 As reference, you can see each Medicare Advantage plan's MOOP using our 2021 Medicare Advantage Plan Finder (
MA-Finder.com/2021
) or you can browse through the states/counties via our
2021 Overview by State
.
The 2021 MOOP dispersion: Different out-of-pocket limits for different Medicare Advantage plans

We found that across all 2021 Medicare Advantage plans, 1,065 plans increased their MOOP, 1,649 MOOPs kept the same MOOP as last year, and 309 plans reduced the plan's MOOP limit.
When MOOP is evaluated across all Medicare Advantage plans (excluding MMPs and SNPs which do not have a MOOP), we see an increase in the average 2021 MOOP limit. The 2021 average MOOP is around $5,337 as compared to $5,121 in 2020.
Medicare Advantage plans may set their MOOP threshold as any amount within the ranges shown in the CMS table below. As an example, HMO plans can set their plan's MOOP as high as $7,550; however, an HMO plan that sets MOOP within the voluntary range ($0 - $3,450) is granted greater flexibility for individual service category cost-sharing.
2021 Voluntary and Mandatory
MOOP Range by Type of Medicare Advantage plan

Plan Type
Voluntary
Mandatory
HMO
$0 - $3,450
$3,451 - $7,550
HMO POS
$0 - $3,450 In-network
$3,451 - $7,550 In-network
Local PPO
$0 - $3,450 In-network and
$0 - $5,150 Combined
$3,451 - $7,550 In-network and
$3,451 - $11,300 Combined
Regional PPO
$0 - $3,450 In-network and
$0 - $5,150 Combined
$3,451 - $7,550 In-network and
$3,451 - $11,300 Combined
PFFS (full network)
$0 - $3,450 Combined
$3,451 - $7,550 Combined
PFFS (partial network)
$0 - $3,450 Combined
$3,451 - $7,550 Combined
PFFS (non-network)
$0 - $3,450
$3,451 - $7,550
Important: In-network MOOP and out-of-network MOOP

As can be seen in the table above, out-of-network cost-sharing expenses may fall into a higher MOOP (for example, see Regional PPO above with a higher "combined" MOOP limit) or (
IMPORTANT!
) your out-of-network cost-sharing may not count toward your MOOP limit, as with the HMO POS plan type. Please notice that the voluntary and mandatory 2021 MOOP limits increased slightly over the 2020 figures.

Question: How are the voluntary and mandatory MOOP limit set?

The voluntary and mandatory MOOP limits are set by the Centers for Medicare and Medicaid Services (CMS). Per CMS, the mandatory MOOP amount represented approximately the 95th percentile of projected beneficiary out-of-pocket spending. In other words, five percent of Original Medicare beneficiaries are expected to incur approximately $7,550 or more in Parts A and B deductibles, co-payments and coinsurance. The voluntary MOOP amount of $3,450 represents approximately the 85th percentile of projected Original Medicare out-of-pocket costs.
MOOP and Special Needs Plans (and MMPs)
You may notice that Medicare Advantage MMP (Medicare-Medicaid plans) and
Special Needs Plans
, such as for dual Medicare/Medicaid eligible beneficiaries (D-SNPs), do not have a MOOP.
Reminder about Medicare Advantage MOOP and Part D Drug Plan TrOOP


Your Total Out-of-Pocket Limit (
TrOOP
) for your Medicare Part D prescription drug coverage
is not the same
as your Medicare Part A and Medicare Part B Maximum Out-of-Pocket (MOOP). (For more information, please see our Frequently Asked Question:
TrOOP is not MOOP
.)
Bottom Line
: Please review your 2021 Medicare Advantage plan's coverage information to learn more about your plan's MOOP. You should be able to find your 2021 MOOP in your plan's 2020/2021 Annual Notice of Change letter (ANOC). You can also telephone your current Medicare Advantage plan using the toll-free Member Services number found on your Member ID card for more information.
Need additional assistance? Please call Medicare at 1-800-633-4227 and speak with a Medicare representative about Medicare plans that are available in your service area.
You can see more 2021 Medicare Part D plan changes using our MA-Compare tool found at:
MA-Compare.com/2021
or
Browse Medicare Advantage or Part D plans by state and county
.