Pre-2010 Medicare.gov - Tutorial - Additional Plan Details

***Archive: Below is the Pre-2010 Medicare.gov Tutorial***
Once a Part D drug plan is found, the user of Medicare.gov can learn more about the plan details by either clicking on the plan name in the plan overview or list page or can select the drop down menu on the plan comparison pages and choose: "View Plan Details" and then "Go".

The bottom portion of the page shows a summary of medications and a bar chart illustrating the coverage phases of this Part D plan. Here we see the initial deductible running into the second month and the doughnut hole being reached late in the year.
If the option is chosen to "Add More Drugs", you will be returned to the drug search form — be sure to "uncheck" the "use lower cost generics box" unless you are sure that you want your brand name medications changed to generics. When you have completed adding more drugs, you will again be asked about your pharmacy preferences and then arrive back at this page.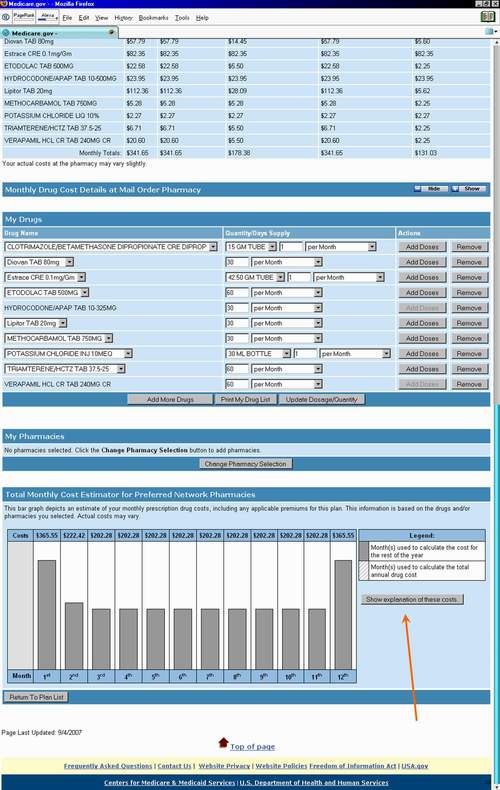 Now back to learning more about the plans. Medicare suggests that you choose a Medicare Part D plan based on the 3 "C's": Cost, Coverage, and Convenience. We would add to this a fourth "C" that is important to many people: "Company". Everyone should ensure that their medications are covered (or at least their more expensive medications). Some people are looking at only cost — which plan will cost the less across the whole year. Some people will pay more annually for a Part D plan just to have no initial deductible ($0 deductible or first dollar coverage). Some people will pay more for their medications just to a lower monthly premium. Some people only want the convenience of knowing that their local pharmacy will accept their Part D plan. Some people choose a Part D plan based on the underlying company — the select ABC Insurance Company, because they have always worked well with ABC Insurance Company.
Bottom Line: Everyone has a means to select a Medicare Part D prescription drug plan that is right for them. We usually suggest the Part D plan that provides the most affordable coverage and best service throughout the whole year.