Pre-2010 Medicare.gov - Decide if you Want to Get Drug Costs for Your Plans
***Archive: Below is the Pre-2010 Medicare.gov Tutorial***
After the information summary, the Medicare website allows the user several choices. You are able to get a very quick overview of the Medicare Part D plans, and Medicare Advantage plans that are available in your area by choosing the right-hand option "Continue to Plan List". Or you can choose the one of the two left-hand options allowing you to work with your specific medications.

We will begin by choosing "Enter My Drugs".
Later, if we are returning, we can recall or resume our session from today by entering our Drug List ID and Password Date that we will save at the end of our search. We will show you where the Drug List ID and Password Date are created. This is after we enter our medication list.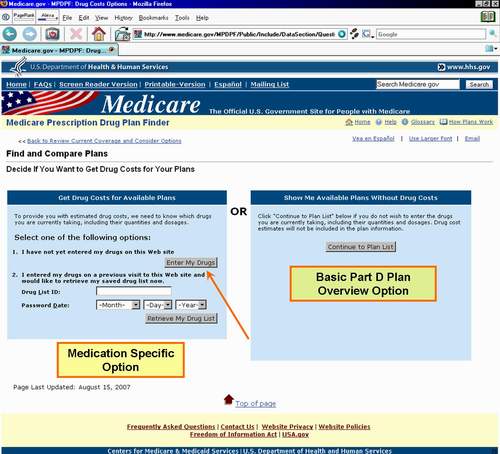 The graphic below shows a similar Medicare.gov screen used when someone has returned from having clicked on "Continue to Plan List". This website user may have wanted to get the big picture of what Medicare Part D plans were generally available in their state, and then they decide to enter their medications to ensure that their prescriptions are covered by their Part D plan.